The Haryana Staff Selection Commission has activated the One-time registration portal for Common Entrance Test or Haryana CET. Connecting the portal with Parivar Pehchan Patra ID or Family ID, ML Khattar led government on Tuesday eventually rolls-out the single portal with an aim to help candidates and concerned authorities from repeated registrations for Group C & D jobs in the state.
One time registration will be applicable for Haryana Common Entrance Test (Haryana CET) government aiming to conduct atleast once a year for the Group 'C' and 'D' posts. All such recruitments advertising after 1st January 2021 shall come under Haryana CET, State Chief Minister Manohar Lal Khattar said.
Haryana CET: Number of attempts
According to the HSSC Chairman, the Common Entrance Test will be conducted atleast one time every year. It can be conducted twice a year, sources familiar with the development told See Latest.
How to Apply Online:
A candidate needs to register online at 'One-Time Registration Portal' using Parivar Pehchan Patra ID or Family ID. With the help of Contact number, candidate can login to the portal and edit/modify the details submitted.
Should Read- HSSC launches One-Time Registration Portal: Know Step-by-Step Registration process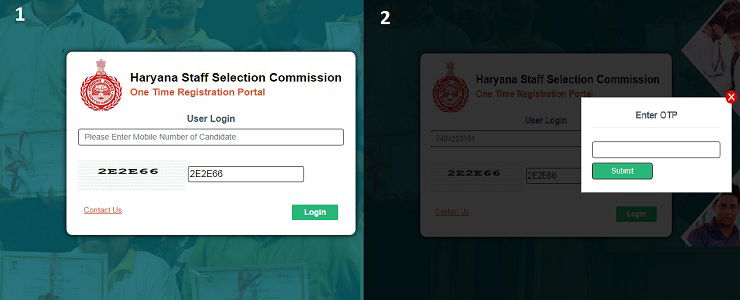 Haryana CET Application Fee:
Candidates are asked to pay one-time registration payment of Rs. 500/- for Unreserved and Rs. 250/- for Reserved categories. The payment will be made once for the lifetime. The data will remain available at the portal for all future recruitments.
How to modily in One-Time Registration Portal:
Visiting the website of the Haryana Staff Selection Commission initiated One-Time Registration portal i.e http://onetimeregn.haryana.gov.in. The correction/modification in details of a candidate can be made online anytime using the Unique ID/ Login details generated after registration.
Portal will collect the data of an applicant through Family ID or PPP ID. For anny correction in the Candidates are asked to make changes in the Parivar Pehchan Patra (PPP) to modify in the One-Time Registration portal.
Haryana CET Eligibility:
Criteria for Group 'C' and 'D' posts will remain same as per guidelines of the Haryana State Government. Candidates having Secondary School or Matric as educational qualification can apply for Group D posts. Whereas, candidates having Sr. Secondary or 10+2 / Graduation as minimum qualification to be eligible for Group 'C' posts.
Selection Method:
Also Read- HSSC Gram Sachiv Expected Cut-off and Result date
The selection to the Group D posts in State Government Departments/Corporations/Commission shall take place through Haryana Common Entrance Test or Haryana CET. Selection to the Group D posts will directly based on marks obtained in the Common Entrance Test. Whereas, for the Group 'C' posts there will be a separate Screening test.
According to the Chairman of Haryana Staff Selection Commission, as many as 150 candidates will be called for the Screening test if the number of vacancies lies between 30 and 50. In other scenario if the number of vacancies are above 50, then three time the number of vacancies candidates will be called.
Haryana CET Syllabus:
The Common Entrance Test reportedly shall be of 100 marks. All candidates shall have to undergo a Common Entrance Test of hundred (100) marks comprising of objective type, multiple choice questions.
The Common Entrance test paper shall include questions on General studies, General Science, Current affairs, General Reasoning, Mental Aptitude, Numerical ability, Agriculture, Animal husbandry, other relevant fields/trades etc. There shall be at least (10) questions relating to basic knowledge of computer. The standard of questions shall be as expected of an educated person having passed 10+2 examination of Board of School Education Haryana.
Note- HSSC has decided to revise the Socio-Economic Criteria for the Common Entrance Test.