We've put together a list of the top eCommerce website builders from across the internet in this blog piece. We've also listed a brief summary of the most helpful features for each website builder because you likely have certain requirements for your company. Although opening an online store may seem like a difficult endeavor, when done correctly, it can be satisfying and incredibly successful.
You may quickly and easily overcome the challenges of e-commerce with the aid of a reliable & professional eCommerce website builder. In this manner, you may win over clients and generate revenue right away. You can stand out if you create an eCommerce website on one of the many simple-to-use website builders for online retailers.
Do you know which is the best eCommerce website builder? Here, check through the list of best online store website builders you may use to launch your eCommerce website if you're searching for a detailed review.
10 Best Ecommerce Website Builders In 2022
JoonWeb
Website- Joonweb.com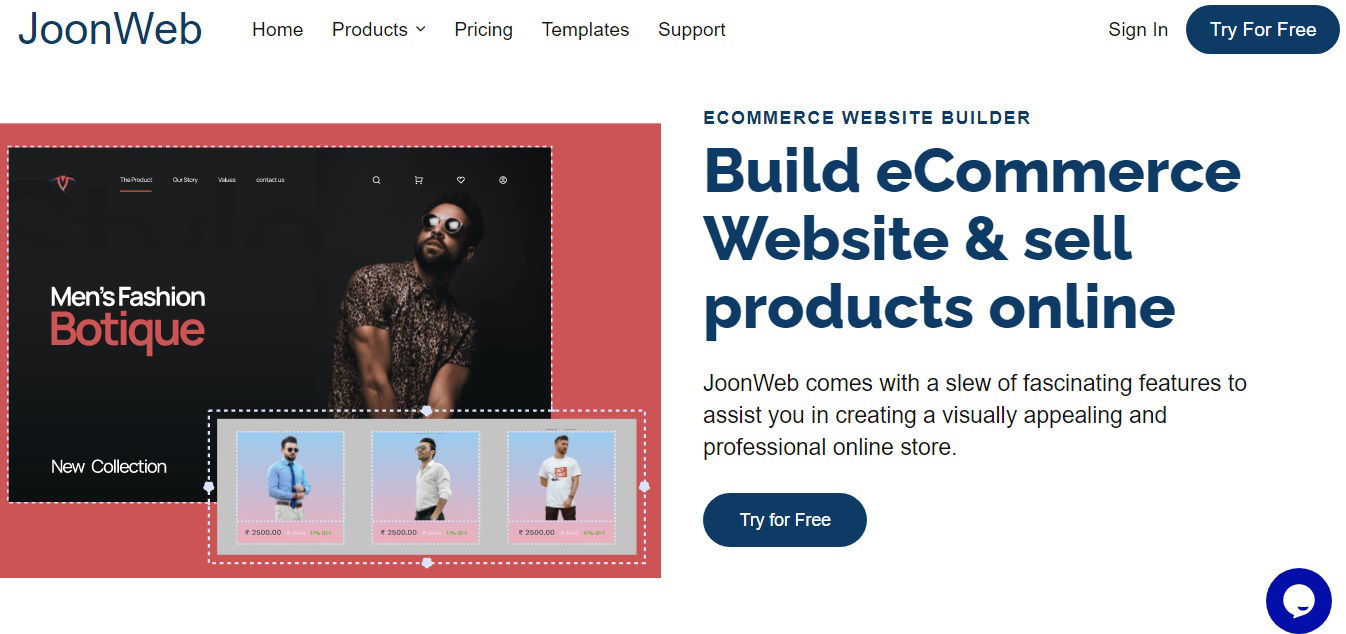 A made-in-India no-code platform for creating fast, easy-to-use, SEO-optimized eCommerce websites.
The quickest and safest method to sell online is with JoonWeb. JoonWeb's eCommerce platform makes it simple to create an eCommerce website within minutes without the need for coding expertise or a big expenditure. Affordable pricing, attractive website designs, and practical marketing tools are all hallmarks of JoonWeb.
You can select from more than 90+ designer templates with built-in features, like SSL certificates, domain hosting, custom domains, and other strong tools to help you attract clients, close deals, and manage your daily business operations if you want to start an online store. Through your online store, you can sell any number of products.
Here are some of the most prominent features of JoonWeb:
A built-in mobile commerce shopping cart enables customers to make purchases using any smartphone or tablet.
Full access to the HTML and CSS of your store, allowing you to completely personalize every part of your e-commerce website.
stores with search engine optimization to make it easier for online prospects to find you
Simple inventory management to keep track of stock levels and halt product sales when inventory is depleted
There are no limitations on how many items you may offer in your store.
You will never be charged based on how much traffic your store receives because of the unlimited bandwidth.
Easy-to-understand Analytics and reporting
A dedicated customer service team is available by phone, email, and live chat every day of the week.
Try JoonWeb free of cost for 15 days, with plans starting at ₹999/Month. (No credit card required)
Also Read- Top 10 Website Builders Of India: These Are Best Website Builders of 2022 In India
Zoho
Website- zoho.com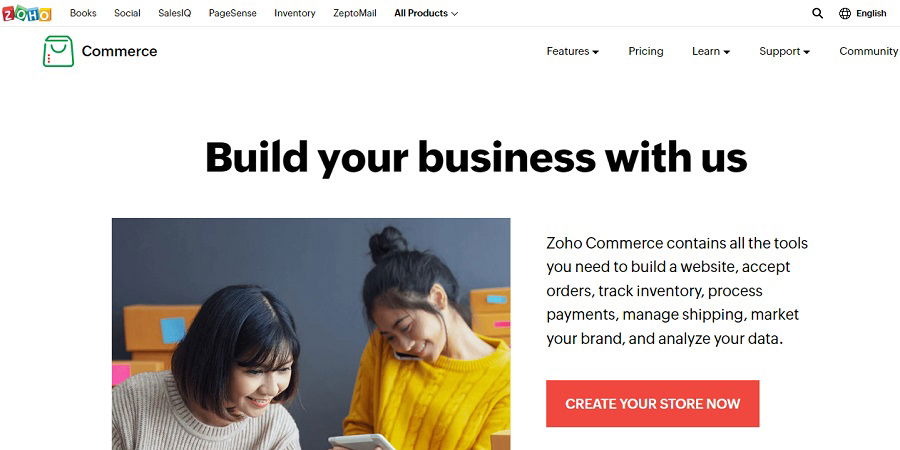 Another top-rated eCommerce website builder from India, Zoho is pushing the boundaries of Website Designing.
You can create a website, collect orders, keep track of inventory, process payments, handle shipping, market your brand, and analyze data using Zoho Commerce. As your sales increase, Zoho Commerce interacts with all the necessary sales, marketing, and financial apps in the Zoho suite, giving you the ability to scale your business operations.
With the help of Zoho, you can launch your store and completely configure it in under an hour. Utilize our robust drag-and-drop site builder, start with one of our many contemporary templates, and then modify everything with our market-leading visual editor. With Zoho Commerce, you have total control over every element of your online store.
Features Of Zoho:
Zoho Commerce includes built-in capabilities as part of its ecosystem, and you receive all of the features from the start—you never have to pay for plugins again.
Plans from Zoho can be adjusted to your company's specific requirements. Additionally, there is a No Hidden Costs promise with Zoho Commerce.
In e-commerce, dependability, security, and privacy are unavoidable requirements. You don't have to worry about corporate security or downtime because all of Zoho's software is run on its private, dedicated data centers.
With more than 50 Zoho tools, you can efficiently automate your e-commerce website as you expand. With tools to execute campaigns, integrate live chat to increase consumer engagement, and manage multi-channel inventory, you can create a store that serves a worldwide audience from a single location, freeing you up to concentrate on expanding your company.
Users can try Zoho Commerce free of cost for a whole month before purchasing a plan (no credit card required). Monthly plans start at ₹999/Month.

Shopify
Website- Shopify.com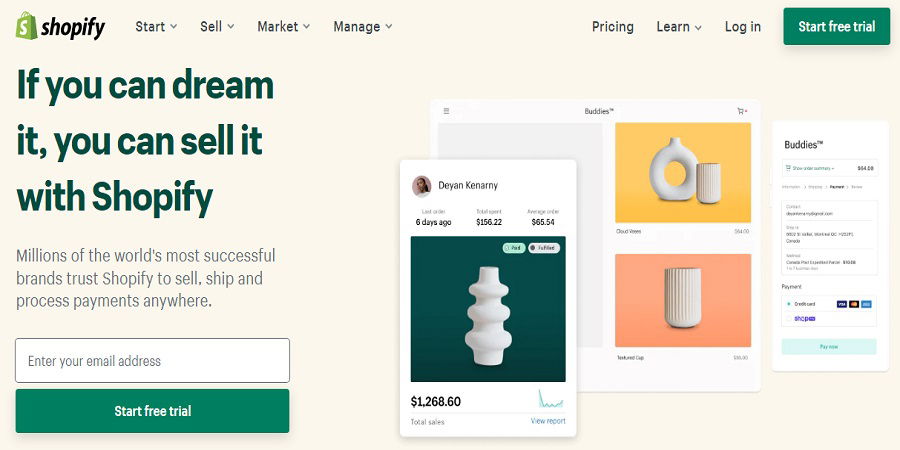 One of the top e-commerce website builders for creating integrated stores. Shopify is known for its simplicity & plethora of eCommerce features.
The quickest and safest way to take your selling business online is with Shopify. With Shopify's eCommerce platform, you can easily create an online store without knowing how to code or having a large budget. Shopify, a platform used by more than a million businesses, is well known for its affordable costs, stunning website layouts, and useful marketing tools.
If you want to start a Shopify store, you can select from more than 100 expert designs that come with built-in features like SSL certificates, domain hosting, custom domains, abandoned cart recovery, and other strong tools to help you attract clients, close deals, and run your daily business. Through Shopify's native partner integrations, you may sell an unlimited number of products through your online store and on several marketplaces, including Amazon, eBay, and Etsy.
Taking online payments is also made simple via Shopify Payments. You may interface with more than 100 international payment alternatives and gateways, such as Shop Pay, PayPal, and Bitcoin. Additionally, you may use one of the over 4,000 free Shopify applications to increase online sales and expand the functionality of your store. in short, Shopify stands apart from other top website builders for eCommerce.
Shopify is highly regarded because of the following features:
A built-in mobile commerce shopping cart enables customers to make purchases using any smartphone or tablet.
Full access to the HTML and CSS of your store, allowing you to completely personalize every part of your e-commerce website.
More than 100 premium themes produced by eminent designers like Happy Cog and Pixel Union
Simple inventory management to monitor stock levels and stop product sales whenever inventory is exhausted
There are no limitations on how many products you want to sell & and keep in your inventory
Due to the limitless bandwidth, you will never be charged based on how much traffic your store receives.
Analytics and reporting made simple
Integration of the Shopify POS system to link physical and online storefronts
Users can Shopify free for 14 days without giving their credit card details. Paid plans start as low as ₹2,300/month.

Shift4Shop (3dcart)
Website- Shift4shop.com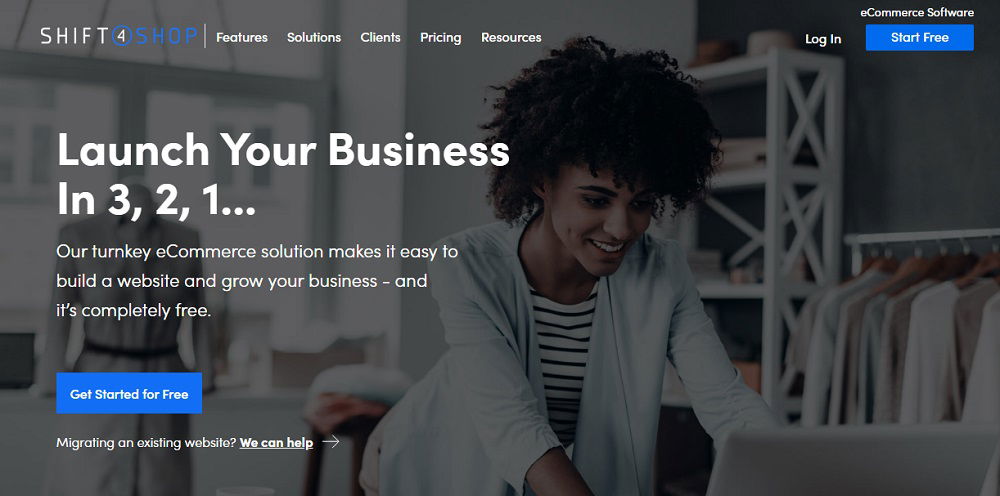 Best eCommerce website builder for physical stores
For retailers looking to sell online, Shift4Shop is a straightforward shopping cart. It is a top choice for business owners that need to develop an online presence quickly due to its inexpensive price, good sales reporting, and mobile-responsive templates, even though it doesn't offer as many features as other website builders like Shopify Wix, and JoonWeb.
You don't have a lot of creative power over your businesses, despite the fact that Shift4Shop comes with a number of important eCommerce tools. There aren't many templates, and using the builder might be challenging.
Shift4shop Features:
Integrated SEO features to raise websites' search exposure
Notifications of abandoned carts to aid in recouping lost sales
More than 90 free templates to launch your website
No coding is necessary for the integration of all 160+ payment alternatives into your store
Suitable Zapier integrations to increase the functionality of your store
Shift4Shop offers a 15-day trial period. After which, users can purchase a paid plan starting at ₹1,500/month.
Wix eCommerce
Website: eCommerce website builder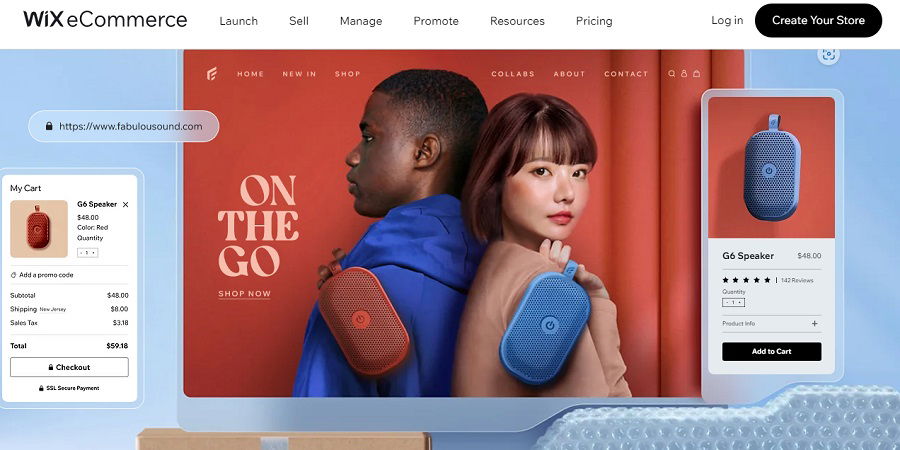 The best e-commerce website-building platform for independent vendors
By utilizing its user-friendly website builder, Wix is now taking on online retailers as part of the eCommerce industry trend. You may construct an online store that suits your demands with Wix's simple drag-and-drop builder. To make it simple for you to get online, Wix offers customizable templates, domain name registration, and web hosting.
The main disadvantage? Even though you can create an online store for free, you can't start selling anything unless you upgrade to a paid plan.
A few useful tools are available on Wix to assist you to run your online store. You may create abandoned cart campaigns, track orders, collect payments online, and sell through a variety of platforms. However, several essential inventory management services, like low-stock notifications, tax calculators, and dropshipping capacities, are not included in Wix's basic account.

Features Include:
Easy-to-use editing platform for creating your online store
Templates that may be modified to fit your website, from the storefront to the checkout integrations to support sales on eBay, Google Shopping, Facebook, and Instagram
Free SSL certificate to safeguard client data and transactions
Product pages with SEO optimization will perform better in search results
the capability of importing inventory data from CSV files into your business
Paid Plans start at $23/per month