'Shaakuntalam' is based on the internationally acclaimed Kalidasa's Sanskrit play 'Abhijnana Shakuntalam'. The story of this historical drama, starring Samantha and Dev Mohan revolves around the epic love story of Shakuntala and King Dushyant from Mahabharata.
It is a whimsical tale of love set in the Kashyapa Kanumalu (Kashmir). The grandeur and splendour of Dushyant's Puru Dynasty, larger-than-life sets and Samantha's beauty make the film extremely exceptional. Know here all about the Shaakuntalam movie review and other details.
Shaakuntalam Movie Review: Story
The story of Shaakuntalam is wholly based on Kalidasa's Abhijnana Shakuntalam, which is the love story of King Dushyant and sage Vishwakarma and Menaka's daughter Shakuntala.
Sage Durvasa's curse makes Dushyant forget all about Shakuntala until the spell breaks and the two reunite. After several years, Shakuntala comes across King Dushyant (Dev Mohan) in the forest, and within no time, both fall for each other.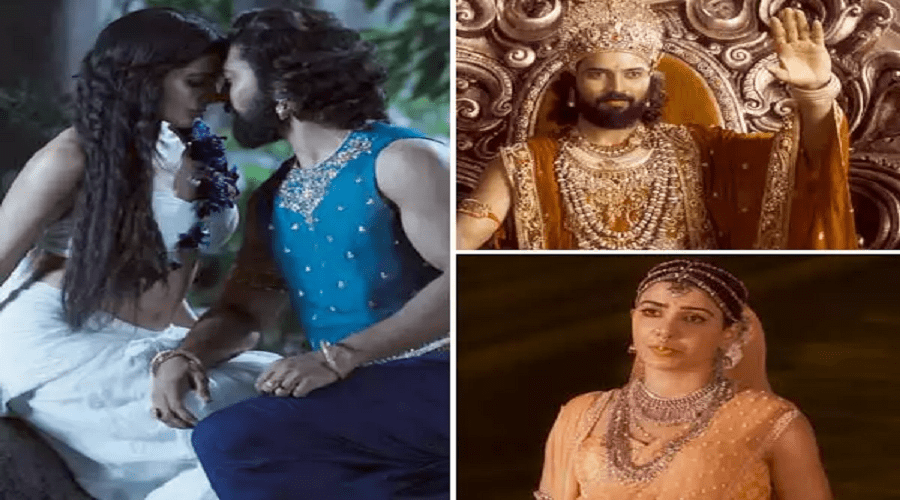 They married according to the Gandharva marriage system, and later Shakuntala becomes pregnant. Dushyant promises to take Shakuntala to his kingdom after a while.
After Dushyant reaches his kingdom, he forgets Shakuntala due to the curse of sage Durvasa (Mohan Babu). The rest of the film showcases the hardships faced by Shakuntala to prove her relationship with Dusyant.
Read This:Bloody Daddy: OTT Release Date, OTT Platform Star Cast, Storyline, Teaser, Trailer & More Details.
Shaakuntalam Movie Review: Plus Points
Samantha, as Shakuntala, did her role nicely. Surprisingly, she gets less screen time in the second half, but the actress gives it all for Shaakuntalam. In the emotional scenes, Samantha showed her mark.
The cameo by Allu Arha is undoubtedly one of the biggest assets of this flick. One will get wondered by the amazing screen presence of Arha. The little girl, though seen for a very short time, makes her presence felt.
Dev Mohan looked charming and was decent in the king role He has charisma and solid looks which can take him to newer heights in his career. Performance-wise, too, Dev Mohan was neat.
Shaakuntalam Movie Review: Minus Points
The entire film seems to have been shot in an indoor studio and reminds us of older Telugu mythological films.
Coming to the war sequences, the less we talk, the better it would be. The narration is flat throughout, and the pacing is dead slow, giving the vibes of a TV serial.
Also This: Saas, Bahu Aur Flamingo: OTT Release Date, Time, Starcast, Plot, Trailer, Streaming Details & More
Shaakuntalam Movie Review: Final Words
The drama and emotions needed for a cinematic viewing are missing big time. Shoddy VFX and bad action sequences reduce the impact further. Apart from a few scenes and Samantha's honest performance, this big-budget flick is a colossal disappointment.