Murder Mystery 2019 was a successful and popular Hollywood direct OTT release movie despite having mixed reviews.
Almost after four years, the makers of the film announced the sequel of the film Murder Mystery 2 which will be released again on the same OTT platform soon. The makers of the film stated this part will have more humour, suspense, drama, suspects and actions, where a wacky combo of mystery would be solved.
Get to know all about Murder Mystery 2 OTT release date, star cast, roles, OTT platform, trailers, news & more details here.
Murder Mystery 2: Star Cast & Roles
This mystery and suspenseful drama film are written and directed by Jeremy Garelick, on the other hand, it is produced by Adam Sandler, Allen Covert, Jennifer Aniston, Tripp Vinson, James Vanderbilt and James D. Stern under Endgame Entertainment, Happy Madison Productions, Mythology Entertainment, Vinson Films and Echo Films banners.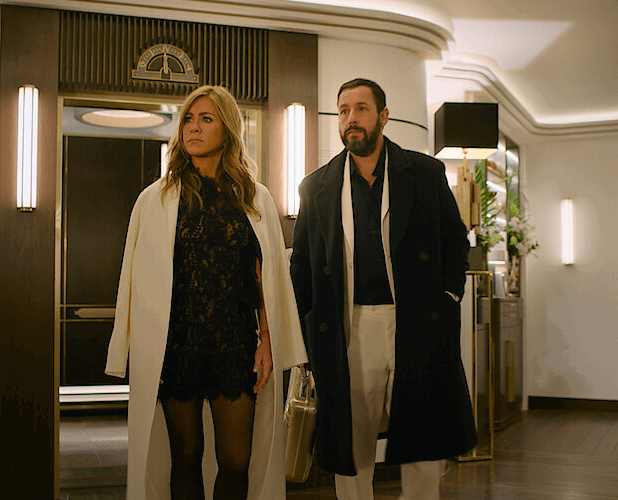 The film stars Adam Sandler, Jennifer Aniston, Jodie Turner-Smith, Mark Strong Tony Goldwyn, Annie Mumolo, and Melanie Laurent in crucial roles. The cinematography is managed by Bojan Bazelli.
Murder Mystery 2: Trailers
As the trailer, depicts the synopsis after four years of Murder Mystery, Nick and Audrey Spitz in & and Adam Sandler and Jennifer Aniston are now on a high-stakes case which finally gives them everything they've ever dreamed of, like finally a detective agency becoming successful and their long-awaited trip to Paris.
Murder Mystery 2 : OTT Release Date & OTT Platform
The trailer of the film was released on January 30, 2023, on official social media channels by Netflix. According to the announcement, fans can watch Murder Mystery 2 on Netflix on March 31, 2023.
Murder Mystery 2 : Other Info & News
The makers of the film have shot the film in Hawaii and also posted another schedule of the film planned in Paris. The production of the film began in February 2022 and ended in April 2022.
On watching the trailer, Indian fan groups have noted Jennifer Aniston's look in a desi avatar, where she is seen wearing a Manish Malhotra-designed lehenga and many shares this news on Twitter.