It's a new year, and January is almost over, preparations for Lohri 2022 are in full swing. There is a sense of anticipation in the air, as the Coronavirus pandemic has left little reason to celebrate this year as well. This calendar year The date of Lohri in 2022 is Wednesday, January 13th. People are working hard to prepare for the festivities. Lohri can be celebrated in a big way with the entire community or in a small way with just one's family or household. Before you get into the spirit of Lohri, dont forget to check out these interesting facts about Lohri that will definitely surprise you.
Also Read- Lohri 2022 Date, Time, Rituals, Celebration And Significance Of This Punjabi Festival
Lohri 2022: Interesting Facts That You Should Know
Lohri Is Celebrated As A Harvest Festival: Though those who live in rural areas of north India and work in agricultural fields are likely to be aware of the significance, those in Southern India and those who live in urban areas may be unaware. The winter crop (traditionally Rabi) is harvested in the days leading up to Lohri, and everyone involved in the harvest gathers around large bonfires to socialise and celebrate the harvest on the festival day.
Lohri Marks The Beginning Of The End Of Winter Season: Lohri is said to fall on the last truly cold day of the season, after which the days will grow longer and warmer as the season progresses into Spring. It should not be confused with Holi, which occurs at the end of Spring and the start of Summer, or with Basant Panchmi, which occurs at the start of Spring.
Also Read- Happy Lohri 2022 Greetings: Wishes, Quotes, Images, Messages To Share With Your Loved Ones
Lohri Is Considered To Be The Longest Night Of The Year: The shortest day and longest night occur on Lohri, after which each day becomes longer. It's no surprise, then, that all of Lohri's festivities take place after the Sun has set.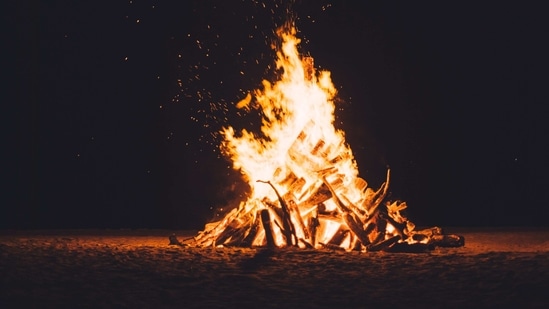 Originally Lohri Is Considered To Be A Hindu Festival: It's difficult to say whether it began as a religious or agricultural festival, but it is thought to honour the Goddess Lohri and the God Agni in Hinduism. Farmers of other religions, however, also celebrate Lohri.
Similarities With Christmas: A winter solstice festival, such as Christmas or Yuletide, is observed by many religions around the world. The Indian equivalent is Lohri, which occurs later due to seasonal differences in the origin country.