Shilpa Shetty's husband Raj Kundra has been arrested by the Mumbai Police for making obscene movies and uploading them on OTT applications. He was taken into police custody on Monday night. The allegation is that he used to make porn movies and release them with the help of an application. Now after his arrest, the reaction of the celebs of the industry is being seen.
While the reaction of Rakhi Sawant, Mika Singh, and Poonam Pandey was seen, now Kangana has shared her reaction on this case. Sharing her reaction on this matter, she has shared a post on Instagram, in which she has compared the industry to the gutter.
In the post, Kangana wrote, "That's why I call the movie industry gutter, everything that shines is not gold. In my upcoming production film Tiku Weds Sheru, I am going to unveil many hidden things about this industry. We need a strong value system in this creative industry and obviously, someone who can keep an eye on these activities.
Should Read- Raj Kundra Arrest: Shilpa Shetty & Her Husband Receive Backlash On Twitter.
Poonam-Mika Also Expressed Their Views
Apart from Kangana, Poonam Pandey and Mika Singh have also shared their reaction. Where Poonam has expressed sympathy towards Shilpa Shetty and her children. At the same time, Mika Singh said, "I am waiting for what will happen, whatever it will be, I hope it's good. I do not understand so much about that application. I saw one application, it was a simple app. There was not much in it, so I hope for good, Raj Kundra is a very good person."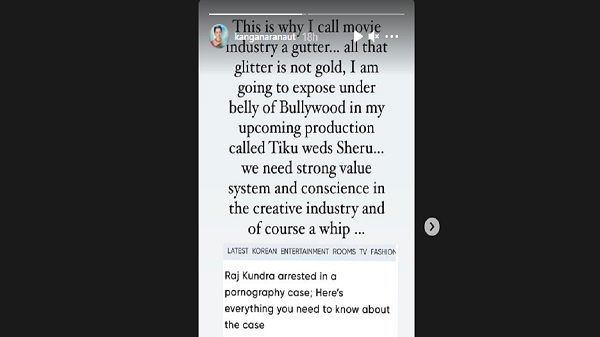 Mumbai Police Crime Branch n claimed that Raj was taking financial benefits from this illegal business by taking subscription fees from the users. The department has also got several WhatsApp chats, which shows Raj's involvement. He has been remanded to remain in police custody till July 23.