The trailer for Akshay Kumar's Raksha Bandhan went viral almost immediately after it was published. The trailer for 'Raksha Bandhan' has elicited a wide range of opinions. This film's plot is around a brother who loves his sisters. The duty for the sisters' marriage falls on the shoulders of the brother. In such a condition, his own love story is being ruined, and he is unable to marry. On 'Raksha Bandhan,' there is also an allegation that it is a clone of a Pakistani film.
Many social media users claim that Akshay Kumar's 'Rakshabandhan' is a rip-off of the Pakistani film 'Load Wedding.' The plot of Pakistani actor Fahad Mustafa and Mehwish Hayat's film 'Load Wedding' is almost similar to Akshay's. In 'Load Wedding,' Fahad's character is unable to marry his love because his sister's marriage is stalled. Aside from that, he has to deal with other issues. Here are some tweets by the Pakistani users.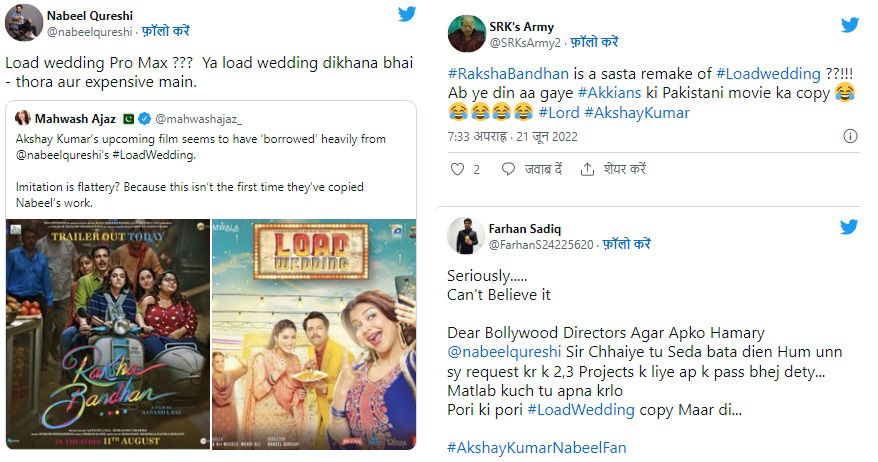 Is Akshay Kumar's Latest Film Raksha Bandhan a Copy Of a Pakistani Film?
No, this allegation is completely wrong, however Akshay Kumar's latest film, Raksha Bandhan is heavily inspired by another Indian film, Kathi Kantha Rao, which was released almost 12 years ago. The movie was directed by E. V. V. Satyanarayana & featured Allari Naresh & Kamna Jethmalani in lead roles.
Also Read- Ante Sundaraniki: OTT Release Date, Platform, TV Rights, Where To Watch & More Details
The movie is about Kathi Kantharao, the son of a suspended shooter. He is a police officer with two married sisters and two more who are engaged to be married. He must satisfy the wishes of his two avaricious brothers-in-law while simultaneously looking for brides for his younger sisters. The entire family's weight lies on his shoulders.
Going by the logic of Pakistani Twitter users, there is a high probability that Load Wedding itself is a copy of an Indian film, Kathi Kantha Rao. This is due to the fact that the Pakistani film Load Wedding was released in 2018 whereas the original Indian film Kathi Kantha Rao hit the theatres on December 10, 2010.