Actress Shilpa Shetty, who has spread her beauty and performance in the world of Bollywood, is celebrating her (Happy Birthday Shilpa Shetty) birthday today. Born on 8 June 1975 in Mangalore, Karnataka, Shilpa beats millions of hearts in the country as well as abroad with her beauty and fashion style, as well as her acting.
Shilpa started her career with an advertisement in the year 1991 at the age of 16. After that, he stepped into the film world with the 1993 film Baazigar. On the occasion of the actress's birthday, let's know some unheard and interesting facts related to her (Unknown-Interesting Facts about Shilpa Shetty):
Should Read- COVID-19 India: Nation Fights Back As Less Than 1 Lakh Fresh Infections Reported After 66 Days
Shilpa Shetty learned the dance art of Bharatnatyam in her childhood and was the captain of her school's volleyball team as well as a black belt in 'Karate'.
In 2009, Shilpa was accused by Raj Kundra's first wife that her husband had divorced her because of her, although Raj Kundra's wife later apologized for it. In 2006, a non-bailable warrant was issued against Shilpa Shetty for promoting obscenity.
In an AIDS awareness program in Mumbai, Hollywood star Richard Gere took Shilpa in his arms and kissed him for a long time. After this, there was a lot of controversy regarding the incident. She has also been the winner of the reality show Big Brother.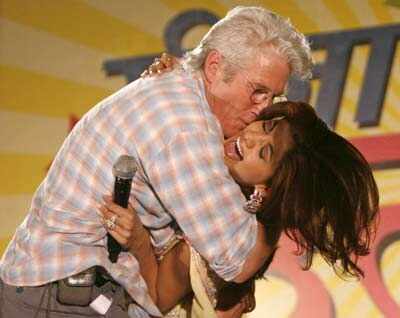 Also Read- Akshay Kumar To Release 5 Big Budget Films In Next Two Years, OMG 2 Sequel In Works Too
Many celebrities' names have been associated with Shilpa Shetty, but if we talk about her first affairs, then they are associated with Akshay Kumar only.
In the 90s, Shilpa Shetty had filed a case against a magazine for publishing the news of an affair about herself and Akshay Kumar. In the year 2009, Shilpa married well-known industrialist Raj Kundra.