Disney+ Hostar is all set to release a patriotic thriller this year. The upcoming film 'Bhuj: The Pride of India' will be a war-drama film based on the Indo-Pakistani war of 1971. Bhuj: The Pride of India release date, cast, director, trailer & where to watch - here is everything else you need to know about the film.
Bhuj: The Pride Of India- Cast
Based on the Bangladesh Liberation War of 1971, this periodic war thriller features an ensemble cast of Ajay Devgn, Sanjay Dutt, Sharad Kelkar, Sonakshi Sinha, Ammy Virk, Pranitha Subhash, Nora Fatehi, & Ihana Dhillon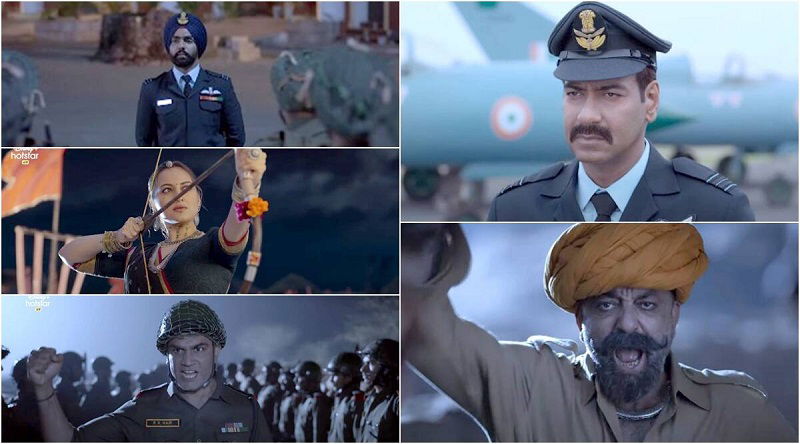 Bhuj: The Pride Of India- Director
Bhuj: The Pride of India is directed by Abhishek Dudhaiya under the production banners T-Series & Ajay Devgn FFilms.
Bhuj: The Pride Of India- Release Date & Where to Watch
his war-drama thriller is slated to release digitally on Disney+ Hotstar this upcoming Independence Day weekend on 13 August 2021
Bhuj: The Pride Of India Trailer
Bhuj: The Pride Of India- Story
During the 1971 Indo‑Pak war, the IAF landing strip at Bhuj was obliterated by PAF ground strikes. Subsequently, 300 local women, led by IAF squadron leader Vijay Karnik, fearless worked day in and day out in an active warzone to reconstruct the destroyed airbase. This act of resilience was a significant moment which not only boosted the morale of the country, but also helped India in achieving air-superiority on the western front of the war.
Bhuj: The Pride Of India- Budget
The demanding scenes & VFX work suggests that the movie is made a budget of around Rs 130 crores. The production quality of this movie looks top-notch in comparison with previous movies that have been made on a similar subject. Heavy VFX intensive scenes are added to give a broad overview of the air-battles that took place between PAF & IAF during Bangladesh Liberation war.
Should Read- Pushpa: The Rise Release Date, Cast, Director, Where To Watch, Budget, Trailer & More