Shah Rukh Khan's son Aryan Khan is arrested in a drug case. The NCB had arrested him on a cruise ship going from Mumbai to Goa, on which a rave party was taking place. Aryan Khan has been in the custody of NCB for a long time and he is being interrogated continuously.
The Shahrukh Khan family is continuously getting the support of the industry on the Aryan Khan case and now the actors have started coming out in the open. Actor Hrithik Roshan has posted on Instagram in support of Aryan Khan, in which he has advised Shahrukh's son to act bravely during this difficult time. 20 lakh to taxpayers...'
Actress Kangana Ranaut has also become active on social media as soon as Hrithik Roshan's post came. Kangana Ranaut has given the title of "Pappu Mafia" to those who support Aryan Khan without naming them. Kangana Ranaut has written in her post, "Now everyone has started coming in support of Pappu Mafia Khan. We make mistakes but we should not glorify them. I think this will increase his understanding and give him a new path. I think it will make him bigger. It is not necessary that we see the human side of things. This will make him understand his mistake."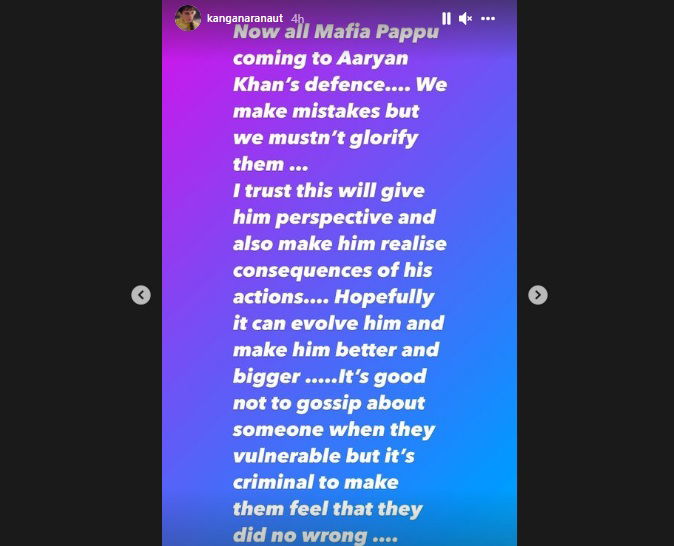 Also Read- From Dhindora Release Date To Dhindora Cast, Here Are All The Details Regarding Bhuvan Bam's Upcoming Web Series
Along with Hrithik Roshan, people like Raza Murad and Shakti Kapoor have also come to support Aryan Khan in the drug case. Talking to the media, these people have said that Bollywood is targeted in every case. Let us inform you that Aryan Khan will be produced again in court today. His bail will be heard in court. The Khan family hopes that today Aryan Khan will come out of NCB's grip.
Also Read- #ReleaseAryanKhan Trends On Twitter: Know What This Is All About