'Bholaa' got released today on the auspicious occasion of Ram Navami on 30th March 2023. It's an action thriller film which is an official remake of the Tamil hit 'Kaithi'. Ever since the makers of the film unveiled the trailer of Bholaa, the fans of superstar Ajay Devgn are eagerly waiting for it to watch in theatres.
Here, check out the details on Bholaa box office collection day 1 and all related information below.
Bholaa Box Office Collection Day 1: Star Cast & Makers
Bholaa is an action thriller drama which is directed and produced by Ajay Devgn, who is also playing the lead male actor. Apart from Devgn and Tabu in the lead roles, Deepak Dopriyal is playing the key character in the film.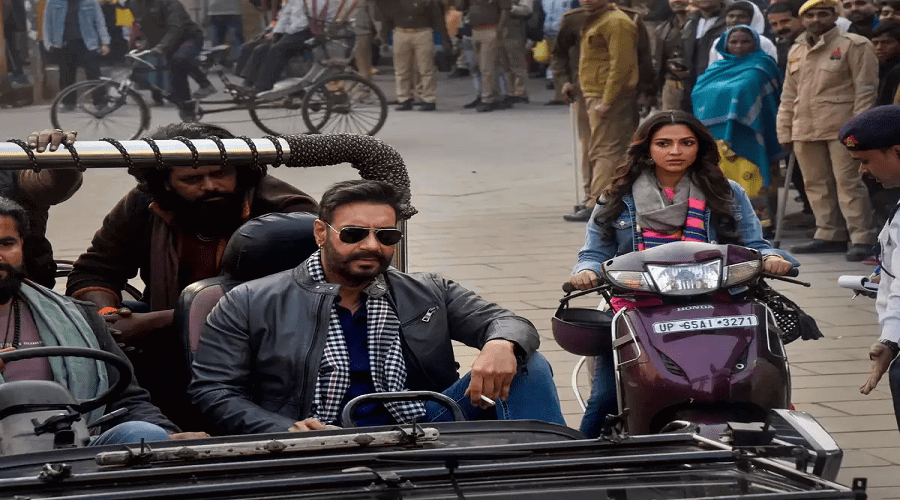 Gajraj Rao and Sanjay Mishra are playing pivotal roles, alongside Abhishek Bachchan making a special appearance.
Bholaa Box Office Collection Day 1: Synopsis
Bholaa is an official remake of the Tamil film Kaithi 2019, the plot shows that after getting out of prison Ajay Devgn as Bholaa desires to meet his daughter who lives in an orphanage.
However, his plans are interrupted when he finds himself in a precarious situation when IPS officer Diana Joseph is & as Tabu leaves him with no choice but to help her in a high-pressure situation which involves the drug mafia, the common man and a truckload of cops.
Read This: Call Me Bae: OTT Release Date, Streaming Details, Star Cast, Plot, Announcement & More
Bholaa Box Office Collection Day 1: Movie Review
Ajay Devgn retells Lokesh Kanagaraj's story in the most histrionic way possible, absolutely nailing the 'action' bit of actioner but making an 'err' in attaining 'er' (entertainer) bit of the same. Following the template of keeping the crux the same and adding some unwanted clutter which was never required in the first place, Bholaa's narrative relies extremely heavily on VFX-filled action sequences.
The movie thrashes the life of baddies using 'Trishul' when it roars, it roars 'oh so good'. It's the additional love track, a love song and a long dramatic drag of the father-daughter sub-plot that holds Bholaa back.
Bholaa Box Office Collection Day 1: Box Office Report
Along with Bholaa, 'Maidaan' starring Ajay Devgn's movie teaser is also out now. Bholaa, a remake of the 2019 film Kaithi, recorded advance ticket sales of around 35,000 and the advance gross is between Rs 2 crore to 5 crore, which is not even one-third of what Drishyam 2 recorded on its first day.
The film might collect anything between Rs 11-13 crore on its opening day. If the reviews are positive, the collections might see a jump on Friday, as has been the case with Drishyam 2 which was released on a non-holiday Friday and received a good opening.
Also, United Kacche: OTT Release Date, Streaming Details, Plot, Star Cast, Trailer & More