Best web series streaming online over the years, Netflix has really grown its library of Indian original movies and series. The list of the 30 top web series on Netflix, streaming services actively compete with other streaming platforms. These days viewing web series in India has exploded like never before.
Netflix, since its introduction to Indian audiences, Netflix has prompted a huge response from Indians. Everyone deserves a bit of 'Netflix and Chill' in their lives. There are several top web series on Netflix that are extremely entertaining and a must-watch, we've put together a list of such best web series on Netflix that one should not miss.
The streaming service has placed increasing emphasis on its own programming in recent years, and with more than 100 Netflix originals, between shows and movies, navigating aimlessly can be daunting. If you're trying to figure out exactly which original show to watch next, this is a great place to start with a ranked list of the 30 best Netflix web series right now.
Top 30 Web Series On Netflix
IMDB Rating: 8.6/10
Episodes: 9
Release Date: 16 November 2018
Sartaj Singh (Saif Ali Khan) is a troubled police officer in Mumbai who receives a phone call from gangster Ganesh Gaitonde (Nawazuddin Siddiqui), who tells him to save the city within 25 days.
IMDB Rating: 8.2/10
Episodes: 65
Release Date: 12 February 2018
21 Sarfarosh - Saragarhi 1897 is an Indian historical drama Web Series starring Mohit Raina, Prakhar Shukla and Mukul Dev. The show is based on the real-life Battle of Saragarhi, fought between Sikh soldiers of the British Indian Army and Pashtun Orakzai tribesmen.
IMDB Rating: 6.6/10
Episodes: 94 minute
Release Date: 24 June 2020
Bulbbul marks the second project of actress Anushka Sharma as a producer. Bulbbul is a Hindi-language Movies and in a category of Period Pieces, Social Issue Dramas, Horror Movies, Supernatural Horror Movies.
IMDB Rating: 4.9/10
Episodes: 6
Release Date: 8 Mar. 2021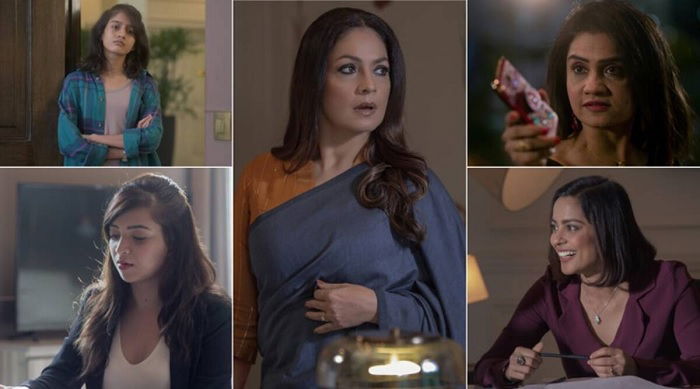 Set in contemporary urban India, five females from different generations, wrestle with desire, ethics, personal crises, and vulnerabilities to their respective ambitions. The show stars Pooja Bhatt, Shahana Goswami, Amruta Subhash, & Plabita Borthakur in pivotal roles.
IMDB Rating: 7.1/10
Episodes: 3
Release Date: 24 August 2018
Ghoul is an Indian horror web television miniseries based on the Arab folklore monster ghoul, and the second Netflix original from India, after Sacred Games.
IMDB Rating: 7.3/10
Episodes: 12
Release Date: 28 December 2018
Selection Day is an Indian Netflix Original Sports web series, based on Aravind Adiga's 2016 novel of the same name. Produced by Anil Kapoor and Anand Tucker
IMDB Rating: 8.5/10
Episodes: 7
Release Date: 17 Aprile 2020
Hasmukh is an Indian dark comedy web television series directed by Nikhil Gonsalves. Co-created and written by Nikkhil Advani and Vir Das, the series stars Das, Ranvir Shorey, Amrita Bagchi, Ravi Kishan, Inaamulhaq, and Manoj Pahwa
IMDB Rating: 5.3/10
Episodes: 10
Release Date: 22 March 2019
Delhi Crime is an Indian crime drama web series written and directed by Richie Mehta. Starring Shefali Shah, Rasika Dugal, Adil Hussain and Rajesh Tailang, the series is set in the aftermath of the 2012 Delhi gang rape.
IMDB Rating: 4.7/10
Episodes: 6
Release Date: 14 June 2019
Leila is an Indian web series, which created by Urmi Juvekar and starring by Huma Qureshi, Siddhart, Seema Biswas, Rahul Khanna. Leila follows the story of Shalini, who tries to find her missing daughter in a totalitarian regime in near future.
IMDB Rating: 6.5/10
Episodes: 5
Release Date: 19 July 2019
The typewriter is Netflix web series, in the genre of horror drama. This web series is directed by Sujoy Ghosh and starring Purab Kohli, Palomi Ghosh, Jisshu Sengupta, and Sameer Kochhar in the lead roles. The series is set in Goa and revolves around a haunted house and a book that captures the imagination of a group of wannabe ghost hunters.
IMDB Rating: 6.9/10
Episodes: 7
Release Date: 27 September 2019
Bard of Blood is spy thriller Netflix web series, which is based on th 2015 espionage novel of the same name by Bilal Siddiqi. Web series directed by Ribhu Dasgupta and produced by Red Chillies Entertainment. starring Emraan Hashmi.
IMDB Rating: 7.4/10
Episodes: 10
Release Date: 10 January 2020
Jamtara – Sabka Number Ayega is an Indian crime drama web series, which directed by Soumendra Padhi and written by Trishant Srivastava. The story revolves around the phishing operations in the Jamtara district of Jharkhand.
IMDB Rating: 7.5/10
Episodes: 7
Release Date: 14 February 2020
Taj Mahal 1989 is an Indian comedy-drama romance web series directed and written by Pushpendra Nath Misra. The series stars Neeraj Kabi, Geetanjali Kulkarni, Sheeba Chaddha, and Danish Husain.
IMDB Rating: 5.3/10
Episodes: 4
Release Date: 24 May 2020
Betaal is an Indian zombie horror web series, and this is based on a remote village that serves as the battleground between East India Company Army officer Lt. The series is written and directed by Patrick Graham and co-directed by Nikhil Mahajan. Produced by Blumhouse Productions and Red Chillies Entertainment, the web series stars Vineet Kumar Singh and Aahana Kumra in significant roles.
IMDB Rating: 8.7/10
Episodes: 73
Release Date: February 1, 2013 – November 2, 2018
House of Cards is an American political thriller web series created by Beau Willimon. It is an adaptation of the 1990 BBC miniseries of the same name and based on the 1989 novel of the same name by Michael Dobbs. It is based on the cunning maneuvering attempts, tyranny and dishonest schemes of the character Frank Underwood.
IMDB Rating: 8.8/10
Episodes: 30
Release Date: 28 August 2015 - 1 September 2017
Narcos is an American crime drama web series created and produced by Chris Brancato, Carlo Bernard, and Doug Miro. It is a biographical drama about the Columbian drug lord Pablo Escobar and other drug kingpins who became billionaires by distributing and dealing in cocaine.
IMDB Rating: 6.1/10
Running Time: 131 minutes
Release Date: 24 July 2020
The Kissing Booth 2 is an American teen romantic comedy film directed by Vince Marcello, from a screenplay by Marcello and Jay Arnold. The film is a direct sequel to the 2018 film The Kissing Booth. Based on the novel The Kissing Booth 2: Going the Distance by Beth Reekles, the film stars Joey King, Joel Courtney, and Jacob Elordi.
IMDB Rating: 7.2/10
Episodes: 6
Release Date: 28 August 2020
Masaba Masaba is a Netflix Hindi web series, which is based on Masaba Gupta's life. It is written and directed by Sonam Nair. Web series starring Neena Gupta and Masaba Masaba Gupta.
IMDB Rating: 8.2/10
Episodes: 21
Release Date: 25 October 2016
Little Things is an Indian web television series by Pocket Aces. It features Mithila Palkar and Dhruv Sehgal in the lead roles. It first premiered on Pocket Aces' channel Dice Media in October 2016 with five episodes.
IMDB Rating: 8.3/10
Episodes: 26
Release Date: 19 November 2014
Dharmakshetra is a mythological drama Web series. The series is set in the aftermath of the battle of Mahabharata.