Shershaah movie is out now for streaming on Disnety+ Hotstar streaming service. Here is our Shershaah movie review in which we have dissected the PVC Vikram Batra biopic inside-out. Shershaah movie review is based on the key aspects of the film that includes cinematography, acting. direction, historical accuracy, story & finally conclusion.
Shershaah Movie Review: Story & Historical Accuracy
The movie is based on the life of Param Vir Chakra awardee and army captain Vikram Batra who was killed in the line of duty while securing Point Pt 4875 during the Indo-Pak 1999 Kargil war. It is one of those biopics that focuses on incidents that are not too old & are well documented with proper eye-witnesses' accounts. However to make things interesting, certain artistic liberties are taken, one of those includes the side-story of Vikram Batra's twin brother Vishal Batra. Other the other hand, Vikram Batra's tragic love story has also been portrayed, considering it is Bollywood, that part is over-stretched, other than that story is pretty close to the real-life events.
Shershaah Movie Review: Acting
Sidharth Malhotra has played his part well considering he knows very well how to play young, charismatic, righteous characters in films. His body-language structure & dialogue fairly resembles Vikram Batra (his original videos are available online for comparison).
Jaaved Jaaferi & Shiv Pandit have also played their parts very well, especially Javed as he has good command over Pakistani accent & he perfectly fits the role of a Pakistani officer. Kiara Advani, as always, shown glimpses of overacting throughout the movie, it's not frustrating but it kind of becomes annoying if someone is only in for a dose of action & thrill.
Shershaah Movie Review: Direction & Writing
Considering it is Vishnuvardhan's first Hindi film as a director, he has done a decent job. However, the main problem is with writing. War scenes in the movie are shot well, in some cases VFX is used (not overused). Technical aspects are done well, the director doesn't go too deep into the technical military aspects of the movie as he doesn't know much about it.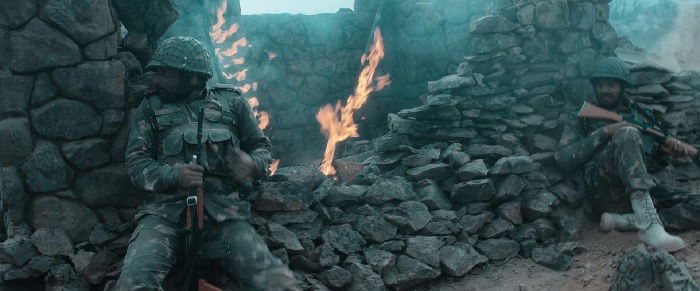 In other words, he plays it safe. Writing is fine up to the point where the story focuses on the Kargil war, whereas Vikram Batra's personal life story, especially his love story is too stretched to a point where it feels like a drag.
Shershaah Movie Review: Cinematography
Cinematographer Kamaljeet Negi has been able to decently capture the urgency and tension that surrounded the actual Kargil War, a lot of scenes shot in dim-lit frames convey how hostile the conditions must've been during the war.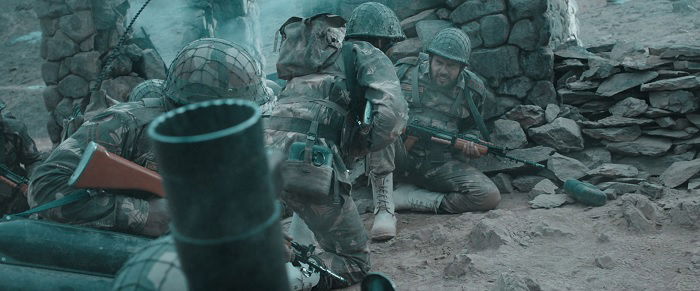 One best thing about the cinematography just like Uri: The Surgical Strike, is that movie doesn't feel overly jingoistic at all. It has shown that soldiers are also human beings & they are not superhumans who are overly charged all the time. Soldiers are shown in a subtle manner doing exactly what their job is & that is to throw the intruders out of Ladakh.
Should Read- Jayeshbhai Jordaar Release Date, Star Cast, Director, Story & Everything Else You Need To Know
Shershaah Movie Review: Conclusion
To be honest, the movie does not focus too much on military technicalities like URI (2016) but it is rather a biopic of a person who has sacrificed his life for the country. Whenever war scenes appear, it does dive into that zone where the entire focus is on one situation rather than just blatant jingoism, however, the love story part is overstretched, to say the least. In short, with all its weak points & deficiencies, it is still the best on-screen portrayal of Captain Vikram Batra to date & also a decent watch for the Independence day weekend.
Shershaah Trailer-
Final Rating- 3.5/5