As per recent reports, A 9 months-long confrontation between PLA & Indian Army at Pangong Tso, Eastern Ladakh has come to an end as both sides have pulled back their frontline soldiers to their respective posts in accordance with the agreement signed on Feb 10th, 2021.
The revelation of complete disengagement comes after both sides released a joint press statement on Feb 21st after the completion of the 10th round of corps-commander level military talks.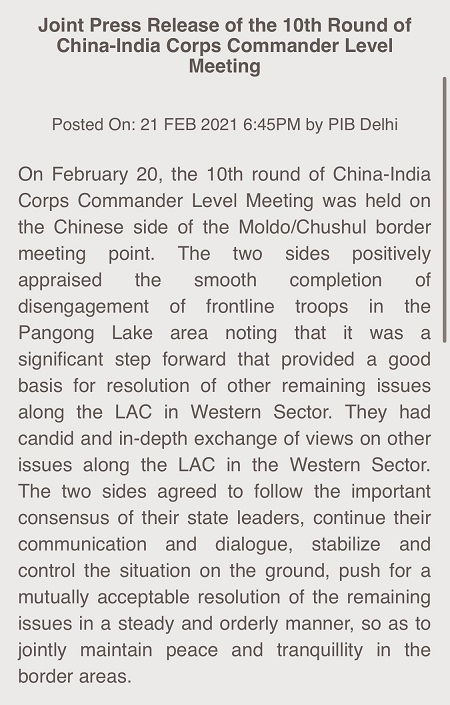 Following the tenth round of the China-India Corps Commander-level meeting, both India and China have appraised the smooth competition of disengagement of frontline troops in the Pangong Tso (Lake) area, noting that it was a significant step forward that provided a good basis for resolution of other remaining issues along the Line of Actual Control in the Western sector.
Also Read- Hate messages target Indian embassy after PLA casualties at Galwan are revealed
In a press release, the Ministry of Defence said both sides had a candid and in-depth exchange of views on other issues along the LAC in the Western Sector & disengagement had been completed in a verified manner.
"The two sides agreed to follow the important consensus of their state leaders, continue their communication and dialogue, stabilize and control the situation on the ground, push for a mutually acceptable resolution of the remaining issues in a steady and orderly manner, so as to jointly maintain peace and tranquillity in the border areas," the release said.
Defence Minister Rajnath Singh also said that the disengagement process in Eastern Ladakh had been completed, during his visit to Salem in Tamil Nadu on Sunday.
Should Read- 60 PLA soldiers killed in Galwan Valley, Journalist arrested in China for revealing state secret
The disengagement process began on February 10. The Indian delegation at Saturday's talks was being led by Lt Gen PGK Menon, the Commander of the Leh-based 14 Corps. The Chinese side was to be headed by Maj Gen Liu Lin, the commander of the South Xinjiang military district of the People's Liberation Army (PLA).