The action movie Dhaakad, starring Bollywood's "queen" Kangana Ranaut, is set to hit theatres soon. Razneesh Razy Ghai's film, directed and produced by him, will be released in theatres on Friday, May 20th, 2022. After the release of its power-packed trailer, in which Kangana Ranaut can be seen in full action avatar as agent Agni performing action sequences with excellency and confidence, the already much-hyped film has been generating a lot of excitement.
The trailer also features Arjun Rampal, who plays the deadly villain Rudraveer, who plays a coal mafia. Deepak Mukut and Sohel Maklai produced the film, which was released under the labels of Sohum Rockstar Entertainment, Sohel Maklai Productions, and Asylum Films. Dhaakad box office day 1 advance bookings, BO clash, Day 1 prediction, budget & all the latest updates are here.
Dhaakad: Box Office Clash
Kangana Ranaut's film will compete directly with Kartik Aryan's highly anticipated Bhool Bhulaiyaa, a sequel to Khiladi Akshay Kumar's horror comedy-drama Bhool Bhulaiyaa from 2007.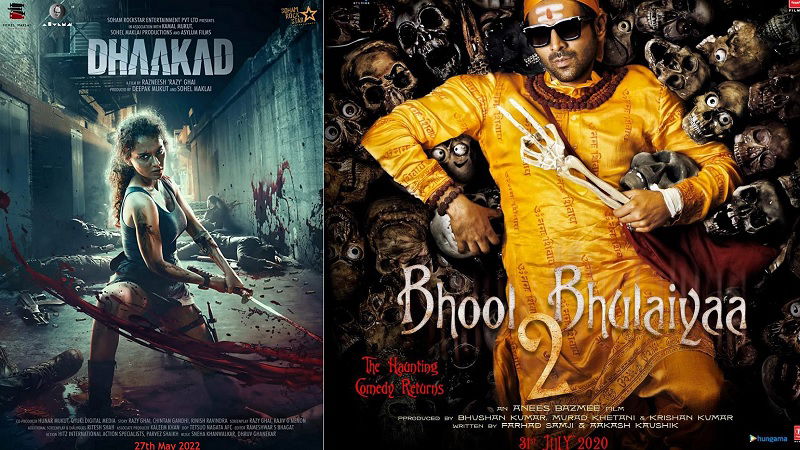 Dhaakad Advance Bookings Update
The early booking of tickets for this highly anticipated action entertainer has already begun, with only one day till the film's premiere. Arjun Rampal, who plays the film's primary antagonist, has also urged fans to get tickets in his fierce villainous way, which he would portray in the film.
Also Read- RRR OTT Release Date, Platform, TV Rights & More Details You Need To Know
Dhaakad Budget
The film starring Kangana Ranaut, Arjun Rampal, and Divya Dutta is expected to cost between ₹70 and ₹80 crores, and in our opinion, it needs to gross at least ₹100 crores to be considered a success.
Dhaakad Box Office Day 1
Although recent Bollywood films have not performed well at the box office, with the exception of Vivek Ranjan Agnihotri's The Kashmir Files, which has brought Tsunami to the box office and crossed ₹300 crores, Kangana's Dhaakad has great expectations.
The Bhool Bhulaiyaa team's ticket price-cut approach, which is seen as a savvy move by the film's makers to entice more and more fans to watch their picture, could be a major roadblock and have an impact on the film's earnings.
We cannot dismiss the powerful Dhakkad; Kangana's performance is already stealing the show, and the fact is that it will give another major a run for his money. Dhakkad, in our opinion, will have a good opening weekend and will be able to generate ₹8-9 crores on Day 1.