A 13-member committee constituted by CBSE on Thursday submitted its report in the Supreme Court on Class 12th Result evaluation criteria. The Committee representative displayed the formula on how CBSE will prepare class 12th result this year. According to the result criteria and formula presented in the Supreme Court, the score of the Class 12 students will be prepared on the basis of the three-year performance of students including Class 10, 11, and 12.
While preparing Class 12th result, CBSE will add 30 percent marks of class 10th, 30 percent of class 11th result, and 40 percent weightage will be given to class 12th pre-board or unit test. Board has also said that it would declare Class 12 results by 31st July. The proposed formula has also been shared below, through which the students can formulate their marks/scores by their own.
Students who will not be satisfied with their results as per CBSE 12th Result Criteria will stand a chance to re-appear for the board exam to be held later.
It has been said in the Supreme Court on behalf of CBSE that the committee has taken this decision keeping in mind the credibility of the examination. Now a result committee will be formed in CBSE schools in which two senior teachers of the school and the teachers of the neighboring school will work as a 'moderation committee'. This is to ensure that the school does not exaggerate the marks given to the students of the particular school. According to the representative, the committee will also see the performance of the students for the last three years.
CBSE Class 12 Result 2021 Formula:
CBSE has said that out of 5 subjects of class 10th, the 3 subjects with the best marks will be taken into consideration. Similarly, the average of 5 subjects of class 11th will be taken and marks of class 12th pre-board, unit test, and practicals will be considered for CBSE 12th Result formula. To prepare 100 percent result, 30 percent of Class 10, 30 percent of Class 11, and 40 percent of Class 12th marks will be taken.
Read: CBSE Presents Class 12 Result Evaluation Criteria in Supreme Court, Know Details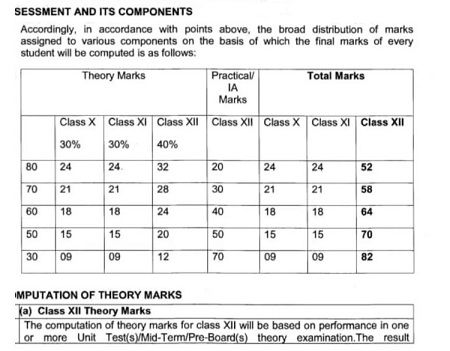 The students opting for the evaluation formula for the class 12 result can visualize their score/marks in the Class 12 result. However, there will be an opportunity for the students to appear for the Improvement examinations to be held later.