The auspicious nine-day festival, Sharad Navratri is being celebrated across the country. Tomorrow, October 9, marks the third day of the 9-day festival i.e. Tritiya and devotees worship Goddess Chandraghanta, known as Suhag ki Devi. She symbolizes justice and dharma in the world. She is believed to be the married incarnation of goddess Parvati.
The word Chandra means moon and Ghanta means she is the Goddess who possesses an ocean of knowledge and she signifies power, bravery, and courage. Goddess Chandraghanta sits on a lion and holds a Gada, sword, Dhanush, Kamandal, Trishul, arrow, jap mala in one hand while a lotus in the other hand. She is known for making the world a better place by enforcing discipline and justice, she is also believed to give us strength to fight the demons among ourselves.
Should Read- List Of Top 5 Hindi Navaratri Songs 2021: Best Bollywood Dandiya & Garbha Songs
As Navaratri 2021 day 3 is about to arrive, we have listed some of the top Navaratri quotes, messages, & wishes that you can send to your family & friends on this auspicious occasion. The list also includes some of the best Navaratri day 3 wishes that will fill up your day with courage & confidence.
Navaratri Day 3 Wishes Including Goddess Chandraghanta Mantra-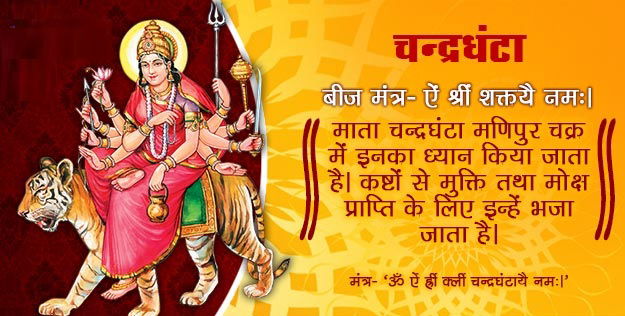 Maa Chandraghanta Aarti-
Jay Maan Chandraghanta Sukh Dhaam. Poorn Keejo Mere Kaam.
Chandr Samaaj Too Sheetal Daatee. Chandr Tej Kiranon Mein Samaatee.
Man Kee Maalak Man Bhaatee Ho. Chandraghanta Tum Var Daatee Ho.
Sundar Bhaav Ko Laane Vaalee. Har Sankat Mein Bachaane Vaalee.
Har Budhavaar Ko Tujhe Dhyaaye. Shradda Sahit To Vinay Sunae.
Moorti Chandr Aakaar Banae.
Sheesh Jhuka Kahe Man Kee Baata. Poorn Aas Karo Jagat Daata.
Kaancheepur Sthaan Tumhaara. Karnaatika Mein Maan Tumhaara.
Naam Tera Ratoo Mahaaraanee. Bhakt Kee Raksha Karo Bhavaanee.
Source- India Tv news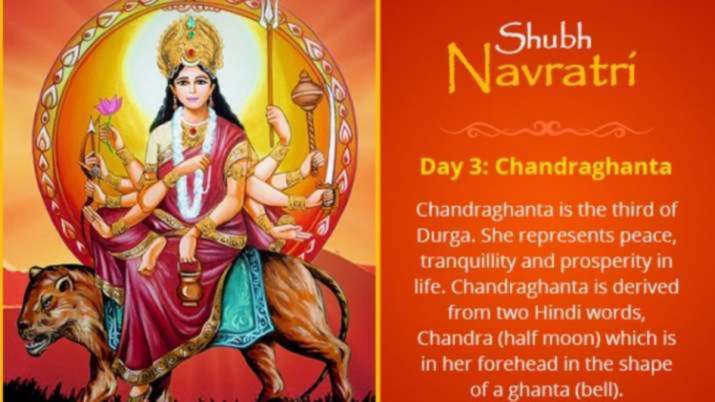 Also Read- Skill gaming company OpenPlay joins 'Friends of Nazara' network after ₹186 crore acquisition