As per reports, Famous news anchor Rohit Sardana has died. Rohit Sardana, who was an anchor in Zee News for a long time, was working as an anchor in the news channel to date. He had a heart attack on Friday morning, in which he died. He was also infected with the coronavirus's new variant which is deemed more deadly.
He was put on a ventilator after a heart attack, but could not be saved. Senior journalist Sudhir Chaudhary tweeted, 'Just a little while ago, I got a call from Jitendra Sharma. Hearing what he said, my hands shuddered. There was news of the death of our friend and colleague Rohit Sardana. I had not imagined that this virus would pick someone up from so close to us. I was not ready for this. This is God's injustice…. Peace. '
After hearing the news of the unfortunate demise of Rohit Sardana due to COVID-19, a wave of grief has stricken the entire Indian media world. while most journalists are sad about the event, many Islamo-leftists are filled with joy and couldn't be happier.
Should Read- COVID-19 India: Nation records highest single-day surge and 3500 deaths in last 24 hrs
One radical Islamist terrorist sympathizer Sharjeel Usmani, while replying to Rajdeep Sardesai's comment wrote, "Sociopath, pathological liar and genocide enabler that he was, SHALL NOT BE REMEMBERED AS JOURNALIST!"
Similarly, many rice-bag converts and radical Islamists, have left atrocious comments on the demise of renowned media veteran Rohit Sardana. On the other hand many self-proclaimed youth icons and activists like Swara Bhaskar, Rana Ayyub, Shruti Seth n have not even commented on Sardana's demise.
Also Read- If a dog-cat film is released on 5000 screens, then it will earn 30 crores on the first day, says Nawazuddin Siddiqui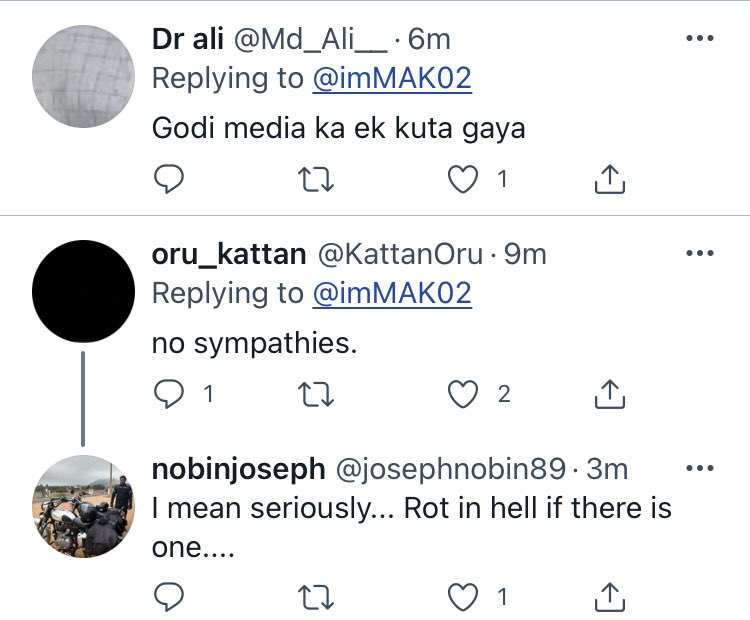 On the behalf of the entire Seelatest team, we would like to pay our regards to the legendary Tv anchor and media icon Rohit Sardana, Sir, you will be remembered.