The second wave of the global pandemic Coronavirus has caused a terrible situation in India. In almost every state of the country, at this time due to lack of beds in hospitals and death due to corona, there are rows of corpses in the crematorium.
However, various rumors are being spread on social media about this epidemic. In the same way, a post on social media is going viral these days, claiming that people all over the world are dying due to 5G testing and it is being named COVID-19. So let's know the truth of this claim.
To reveal the truth of this viral post, the World Health Organization (WHO) has given detailed information on its website. According to the World Health Organization, radio waves of the 5G mobile network do not spread the infection of COVID-19, because the coronavirus is also spreading in the countries that do not have a 5G mobile network. The World Health Organization has also shared a video related to the case on YouTube.
Should Read- COVID-19 India: Slight Dip In Fresh Cases, However, Death Rate Remains Constant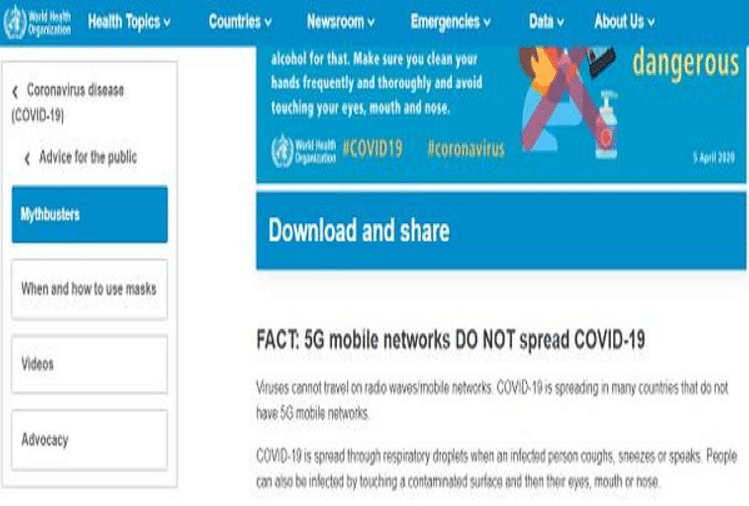 The information related to the viral post is also available on the website of the United Nations Children's Fund (UNICEF). UNICEF has also claimed that false information is being spread about 5G. The virus is not spread by 5G mobile internet and no one is going to die due to this.
In addition to this, PIB Fact Check has also claimed the claim of death due to 5G testing is fake. The global pandemic corona virus-related addiction and absolutely bogus information sharing can be quite dangerous. The PIB has appealed to the people not to rely on any such claim.
Also Read- COVID-19 Vaccination Update: Centre to distribute 60 Lakh doses to States/UTs in next 3 days