CoWin Registration: All citizens of India above the age of 18 can now register for COVID-19 vaccination and schedule their vaccination slots at the nearest vaccination centers. Ministry of Health & Family Welfare (MoHFW), Govt. of India has facilitated Co-Win portal with website cowin.gov.in and Aarogya Setu App for the online registration for Covid19 vaccination.
As per the data provided by the Ministry of Health & Family Welfare, in just 12 hours of the beginning of registration at Cowin.gov.in portal and Aarogya Setu app more than 1 Crore have registered for the vaccination drive beginning from 1st of May, 2021 for above 18 age Indian citizens. MoHFW on Wednesday started Covid19 vaccination registration for the citizens above 18 years.
Initially when the registration at portal started, due to the heavy rush at Cowin.gov.in portal the server reportedly became unavailable which led problem not only to the applicants, also to the authorities.
How to register online for the Covid vaccination using android or iOS, the step-by-step process is hereby shared.
Also Read: Covid19 2nd Wave uncontrolled in many metro cities in India
Covid Vaccination Registration at Cowin.gov.in
Step 1: Go to the Cowin.gov.in portal
Step 2: Click on 'Register/ Sign In Yourself'
Step 3: On the Self Registration Portal you need to enter your Mobile Number and then click on 'Get OTP'
Step 4: Enter your OTP and click on 'Submit'
Step 5: Enter details such as Photo ID detail, Name and Date of Year etc.
Step 6: Select your State, District and Vaccination Centre Code for booking slot.
Covid Vaccination: Registration at Aarogya Setu
For registration of Aarogyasetu, the individual needs an Indian mobile number operated in India. Note: Applicants should have Android Version 5 & above and iOS version 10.3 & above.
Step 1: Go to the Aarogya Setu app or Aarogyasetu.gov.in portal.
Step 2: Click on 'Vaccination', Enter your Mobile Number
Step 3: Click on 'Proceed to Verify' and then enter Aarogya Setu OTP.
Step 4: Then Select Photo ID Card Type, Enter Photo ID Card Number and enter Beneficiary Name as per Photo ID Card.
Step 5: Enter Gender and Date of Year. Then Click on 'Submit'.
Step 6: You will get registered and then book your vaccination slot at vaccination Centre by fetching your 'Post Code'.
Read: Covid19 in India: 3.6 Lakh cases, more than 3 thousand lost their lives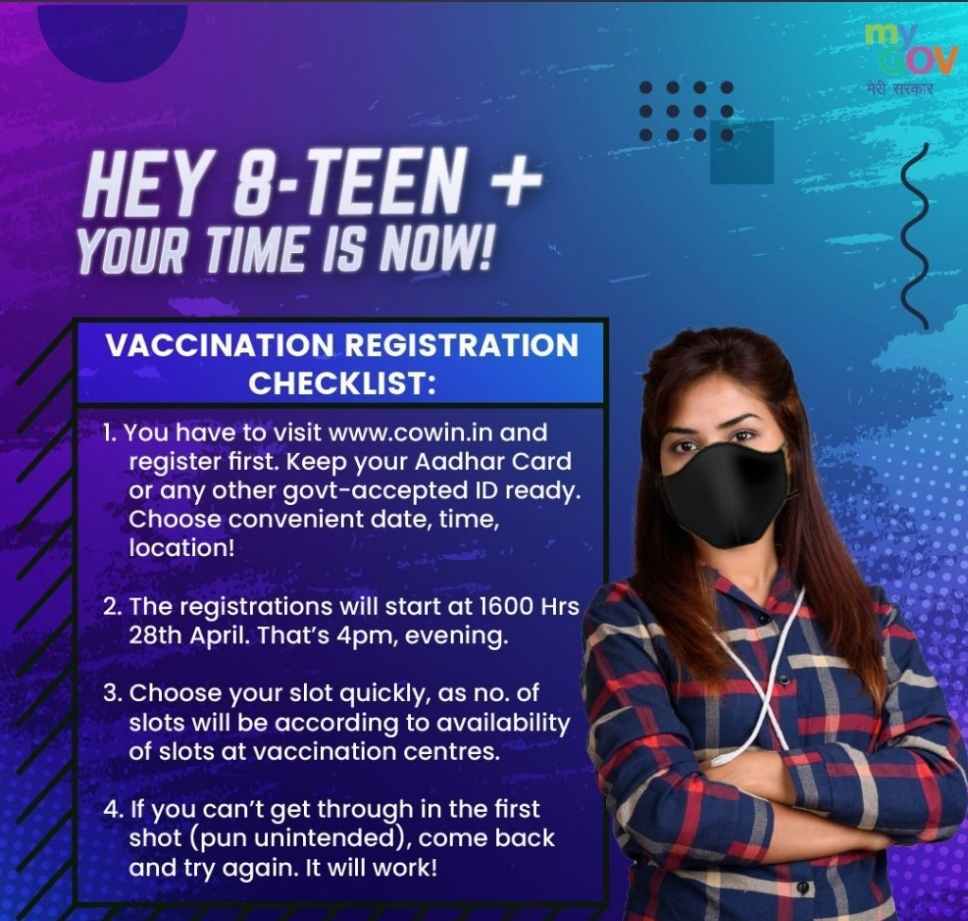 Important Information regarding Vaccination Appointment
1. Appointment for Age 18 to 44 is based on slots made available by the private vaccinations centers as well as the respective state government.
2. The minimum age for each vaccination center is displayed with the name of the vaccination center. Appointment slots are available where the age displayed is 18+.
3. More Appointment slots will soon be offered. If slots are not currently available, please check again after sometime. We request your patience and understanding.
4. To add multiple individuals in a single Dose two appointment, the vaccine and Dose one date must be same.
5. The second dose of COVAXIN should be taken between 28 days to 42 days after the first dose. The second dose of COVISHIELD should be taken between 28 days to 56 days after the first dose.