Haryana Staff Selection Commission (HSSC) on Saturday, August 07, 2021, conducted the Haryana Male Constable examination in two shifts. However, according to social media reports, the Constable examination of 1st and 2nd shift of August 7 was leaked before the examination. In these reports it is claimed that the question paper and answer keys were shared through social media a night before the examination.
Further, several social media reports and views have been shared regarding the failure of Haryana Staff Selection Commission and Government of Haryana for not conducting the examination fairly.
Balraj Kundu, MLA Meham targeting the present Government says that the exam should be conducted fairly and concerned agencies should not play with students' future.
If, the report is found correct, it will be for the second time a big exam is leaked this year. Earlier, an offline exam for the post of Patwari was found leaked at some centres and later was cancelled. However, any notice regarding the Police Constable exam isn't made officially.
Meantime, an alleged official notice is being circulated on social media and also by several YouTube channels claiming the cancellation of the Constable exam which is held on 7th August and scheduled for 8th August.
Viral Constable Paper Cancellation Notice: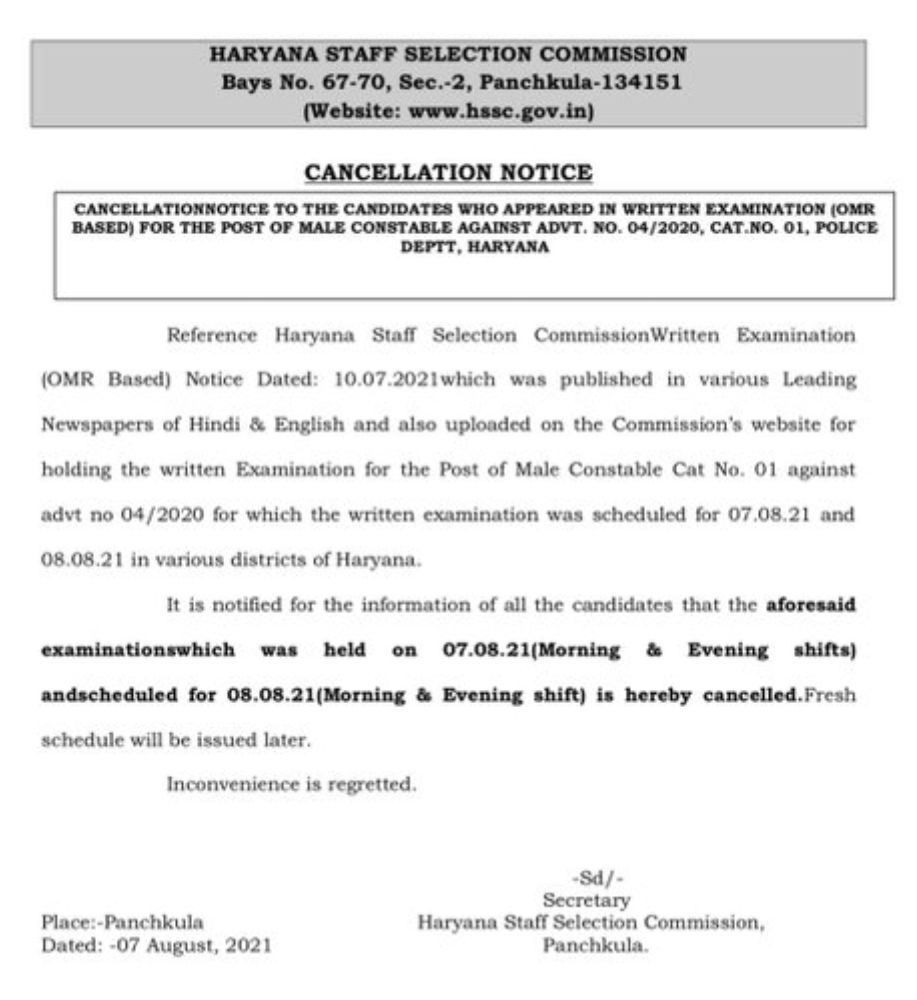 Should Read: HSSC Constable, SI and Patwari Exam 2021 Important Notice Out
It is hereby clarified that when the news was being reported their was no such official notice at the website that claim the cancellation of Haryana Police Constable exam of August 7 and 8, 2021. Also, the official website hssc.gov.in was down due to the huge rush.