The Haryana Staff Selection Commission (HSSC) is in the process to declare the new exam dates for the recruitment of Gram Sachiv against the advt. no 09/2019, Category No-01. The Commission will announce the revised examination dates after canceling the 9 and 10 January 2021 held OMR based Gram Sachiv written examination. According to the officials, the Commission shorting-out the hurdles in conducting the fair examination will announce the new dates on its website hssc.gov.in.
After the reports of paper-leak and irregularities in the Gram Sachiv examination held on 9 and 10 January 2021, the Haryana Staff Selection Commission decided to cancel the examination which left lacs of candidates stunned and helpless. STF and Flying squad made arrests of several accused in paper-leak from different districts which finally led to the cancellation of the exam, on 16th January.
Following the reports, it is expected that the Commission will announce fresh dates for re-examination, shortly. "After getting the clearance from the state government and concerned agencies the fresh schedule of Gram Sachiv will be released", an official told See Latest.
Should Read- HSSC Gram Sachiv examination canceled due to paper-leak
"The delay in the announcement of Gram Sachiv's new exam dates will only result in a big loss to the students who have been waiting and preparing for the state recruitment exams", a candidate said on being asked on the decision of HSSC to cancel the examination.
HSSC Gram Sachiv New Exam Date 2021: Updates
February 11, 2021- The exam schedule of Gram Sachiv likely to be released soon. HSSC Gram Sachiv exam is expected to be held by February end.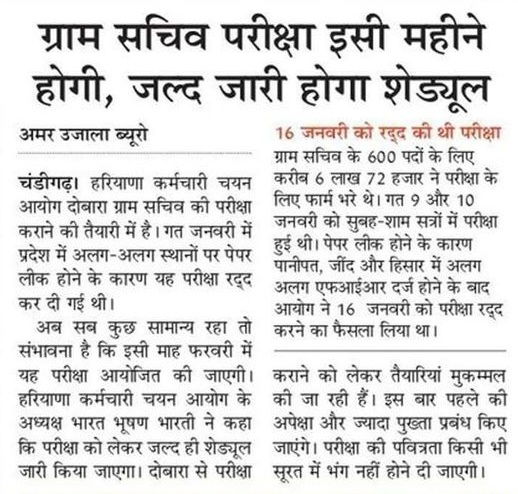 Jan 20, 2021- Commission has decided not to designate private school/college as an examination center for future exams of Haryana Staff Selection Commission. The decision is taken in view of the 9 and 10 January 2021 held Gram Sachiv paper was found leaked in different centers especially in private school/colleges.
HSSC Gram Sachiv Exam through CET?
It is also reported that the Haryana State Government has rolled-out the Common Entrance Test or CET for the Group C and D posts. Reportedly it is said that the govt. is eying to conduct CET exam at least once a year and likely to make compulsory for all exams for Group C & D posts in Haryana state, after January 1st, 2021.
Recent decisions are taken by HSSC, including postponing Health Department exams that were scheduled between January 17-19 and cancellation of the Gram Sachiv exam have indicated that the Commission may decide both the exams undertaken by Haryana CET. However, the official announcement regarding bringing Gram Sachiv and Health Department exams under CET is yet to be made.