Vadh, the title of the film itself suggests a grand warrior-like act of slaying the enemy. The debut feature by Rajeev Barnwal and Jaspal Singh Sandhu takes the tale of a small personal battle to a dingy house in a nondescript lane in Gwalior.
The film starrer Sanjay Mishra and Neena Gupta has led the movie to a potential level though failed to make the expected impact.
Vadh Movie Review: Synopsis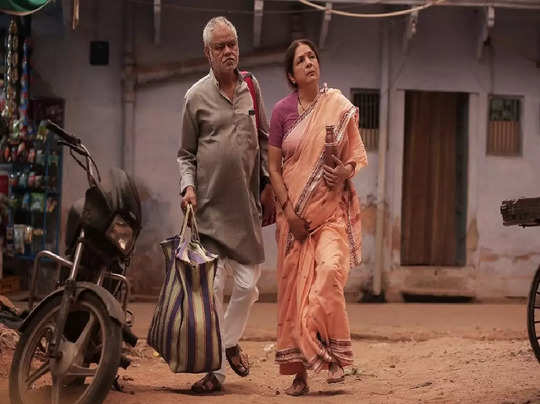 Vadh starrer Sanjay Mishra and Neena Gupta released on 9th Dec 2022, is basically a passable thriller that works in parts, however, fails to do justice to its inherently engaging plot.
The movie showcases the tale of Shambhunath Mishra, who is a schoolmaster who leads an uneventful life with his wife Manju played by Neena Gupta.
He is constantly harassed by a loan shark named Prajapati Pandey played by Saurabh Sachdeva, it's something that he deeply resents.
Shambhunath's world is turned upside down when he commits a crime under unusual circumstances. The rest of the scenes revolve around his attempts at covering his tracks and staying out of jail.
The movie is not about whether Shambhunath is caught or not or even his redemption. There are unpredictable twists after a straightforward pre-intermission portion that lifts the film out of the mundane.
Must See: Vijayanand Box Office Collection Day 1- A Much Hyped Pan India Project. Lost Grip On Screens
As a result of Vadh movie review, the sequences between the protagonist and his son too don't really work as well as they could have. They needed to be more subtle to make an impact.
The same applies to the scenes involving Shambhunath and Prajapati. They had the potential to be deeply haunting and unnerving, but that does not happen as the silences don't really speak.
Vadh Movie Review: Final Verdict
Vadh has nuances that will need the audiences to stay sharp while viewing. Audiences can pay attention to the props and dialogue in the scenes.
You can also see the parallels between the sequences and Prajapati being slayed, for example, the rat escape scene in the film.
The first half of the film gets slow and Prajapati Pandey harassing the old couple could have been for shorter duration, however the second half of the film is thrilling to the core.
The movie is for viewers who have raw and realistic taste in films. The shock value manages to set the stage till the end, and the twist towards the end has set a dynamic to the story of this film.