The movement of farmers against the three agricultural laws of the central government is still going on on the border of Delhi. The movement started in December, however it was later hijacked by 'Khalistani sympathizers' last year. The farmers are still sitting around Delhi's border to protest against the three agricultural laws. At the same time, this movement of farmers is getting the support of many members of the country and abroad.
They also include many stars of Punjabi cinema. Canadian-Punjabi singer and Khalistani Sympathizer 'Jazzy B' is also supporting the farmers' movement in India. He is constantly sharing posts in his support on social media. In such a situation, Jazzy B's Twitter account has been banned in India. According to the news of the English website India Today, the Twitter account of Jazzy B has been closed after the instructions of the Government of India.
Also Read- As Samantha Akkineni's Garners Praise For Her Role In The Family Man 2, An Interesting Fact About The Actress Surfaces
However, he can still access his Twitter account from an IP address outside the country. At the same time, Twitter India has also given its reaction to the banning of Jazzy B's Twitter account in India. In its official statement, Twitter said, 'We received a valid and reasonable request from an authorized entity. From time to time it is necessary to stop certain materials in the country. Such prohibition is limited to the specific jurisdiction in which the statutory requisition is issued or where the material is found to be in violation of local law."
At the same time, Jazzy B himself has also informed about banning his Twitter account in India. He has shared a screenshot of his Twitter account on his official Instagram account. Information about banning his account has been given in this screenshot. Sharing this screenshot, Jazzy B has also written a special caption and once again supported the farmers' movement.
Should Read- KRK Vows To Destroy Salman Khan's Career, Says '2 Rs Actor Doesn't Even Know How To Act'
Jazzy B wrote in the caption of the screenshot, 'I will always stand up for the rights of the people.' Along with this, he wrote in the hashtag, "#kisanmajdooriktazindabad #neverforget1984 #raiseyourvoice" Jazzy B's post is becoming increasingly viral on social media. Fans of the veteran singer are liking his post.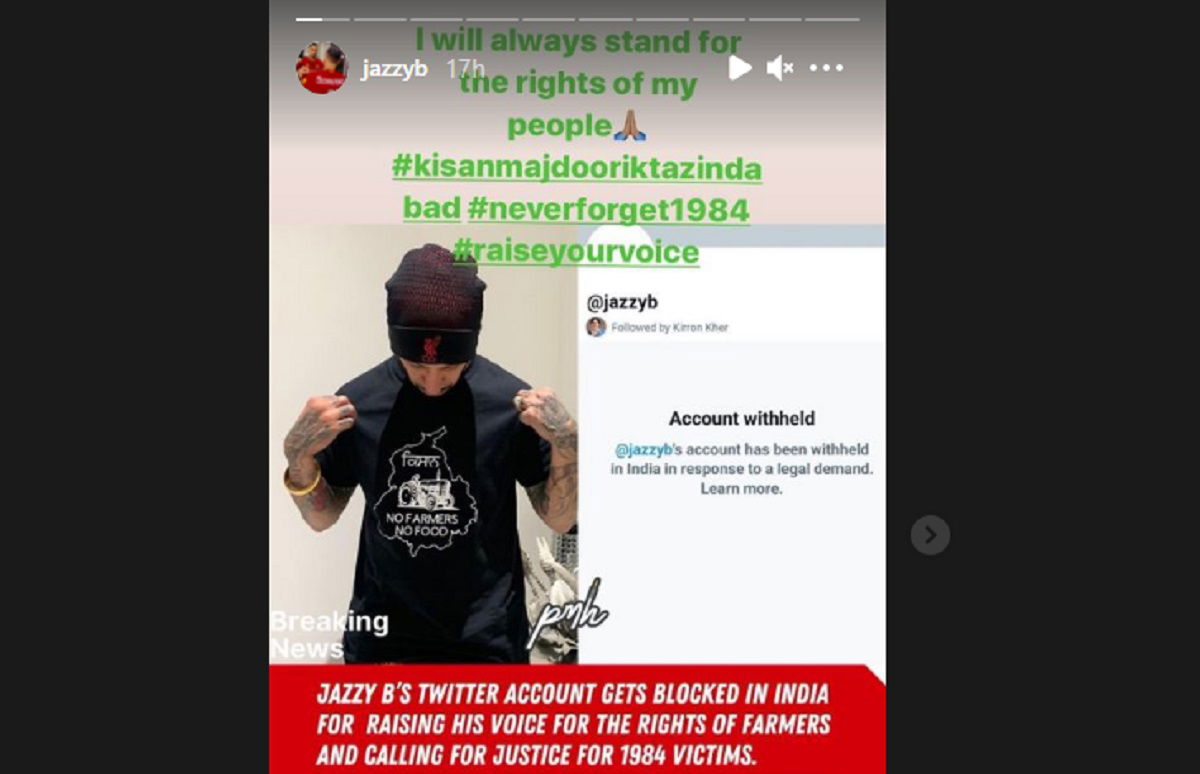 Recently, Jazzy B's old video surfaced on the internet in which he was openly demanding to break Punjab and turn it into Khalistan. Jazzy B said, "Sikhs have no identity in India".