Akshay Kumar, Katrina Kaif, Ajay Devgn, and Ranveer Singh starrer "Sooryavanshi", a joint collaboration of Reliance Entertainment and Karan Johar's Dharma Productions in collaboration, has ended the standoff between its producers and the exhibitors on Tuesday.
The film is now ready for release with more than five thousand screens. Releasing on Friday, November 5, the film will face direct competition from Marvel Studios' 'Eternals', in which 10 new superheroes are joining the Marvel Cinematic Universe simultaneously. One of these superheroes is shown working as a superstar in the Hindi film world.
Interestingly, Sooryavanshi Vs Eternals battle has begun even before release of the films & it looks like Eternals is winning on that front. The countdown to the biggest match of the year has started at the box office. In the case of advance booking of both the films, 'Eternals' has got the upper hand, it's advance booking started from Monday itself and most of its Friday shows have become almost housefull.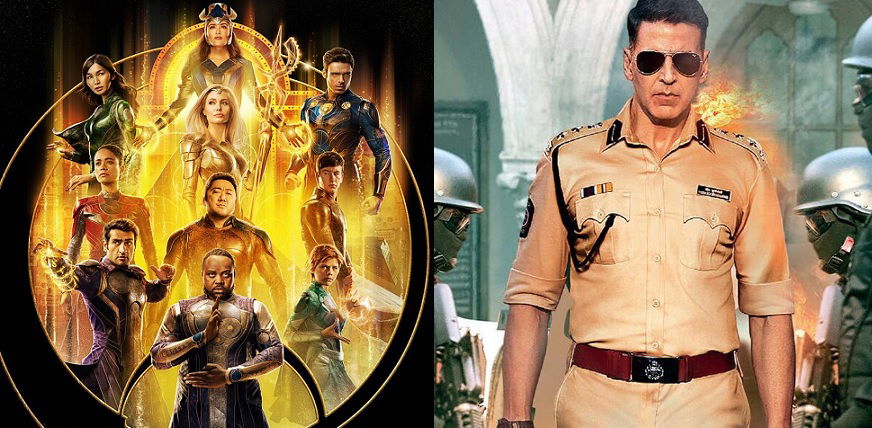 With the permission to open cinemas in all the states of the country with 100 percent capacity, the box office collection of both these films is expected to increase miraculously. Mumbai's film trade experts estimate that the opening day of the film 'Sooryavanshi' can take up to ₹30 crores. The first day opening of Akshay Kumar's film 'Bellbottom', which was released earlier, had a quarter of three crore rupees.
Sooryavanshi Vs Eternals
The advance booking of Marvel Studios' 'Eternals', which is releasing with the film 'Sooryavanshi', started from Monday itself. According to the figures received so far, advance booking of this film is being done vigorously.
Eternals Trailer-
All the shows on Friday of the film have become almost housefull. At the same time, advance booking of the film 'Sooryavanshi' could start late on Tuesday evening and almost all the seats of the shows of the first day were seen empty on BookMyShow. Advance booking of the film 'Sooryavanshi' is expected to pick up the pace from Wednesday.
Sooryavanshi Trailer-
Even if we compare the promotions of both the films, the film 'Eternals' looks heavy. Although the film has not got more theaters than 'Sooryavanshi', due to the interaction of its actors with the selected media houses of India, discussions have started about it in the far-flung areas of the country.
Also Read- Upcoming Movies Of November 2021: OTT Movies Releasing In November 2021 - See Latest