In the age of social media, news spreads like fire. Sometimes people believe in fake rumors as well because everyone is talking about them. One such news is currently going viral on the internet, in which it is being told that Haryana's famous artist Sapna Choudhary died.
News of Sapna Choudhary's deaths spread like a virus & many people started believing the rumour. Sapna Chaudhary has made a special place in the hearts of fans on the basis of her songs, due to which people are very upset.
However, let us tell you that the news spread about Sapna Chaudhary is baseless. Sapna Choudhary is completely fine. The news spreading about Sapna Choudhary's death on the Internet is nothing more than a hoax.
Also Read- Upcoming Web Series Releasing In September 2021: Top September Web Series Releasing This Month
Many fans of Sapna Chaudhary have got upset with the news of her death, while many have also started paying tribute to her. All these fans are relying on a viral post, in which a person has claimed that Sapna Chaudhary is no longer in this world. It is being claimed in this post that Sapna Chaudhary has died due to accident. You can see the viral post below: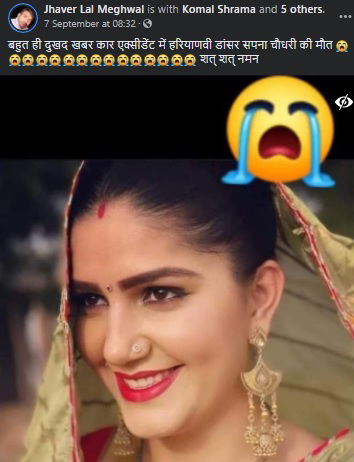 Also Read- ALT Balaji Upcoming Web Series list 2021: Check out the latest originals streaming online