Roohi Movie Review
Roohi is a 2021 Indian Hindi-language comedy horror film directed by Hardik Mehta and produced by Dinesh Vijan under the banner Maddock Films. It tells the story of a ghost who abducts brides on their honeymoons. The film stars Rajkummar Rao, Janhvi Kapoor, and Varun Sharma.
Roohi is currently streaming nationwide in approximately 1500 theatres, and it's the first big movie to hit the theatres post-lockdown.
Here is what experts' say on the Roohi movie review. Directed by Hardik Mehta, Roohi tells the story of a witch, Roohi (played by Janhvi) who abducts brides on their honeymoon.
Roohi movie review- The story tells you How two men, Veer and Raj (Rajkummar Rao and Varun Sharma) from the village take up the responsibility to save the brides from Roohi. The whole plot revolves around this thin layer of bride rescue which is done by Rao's character.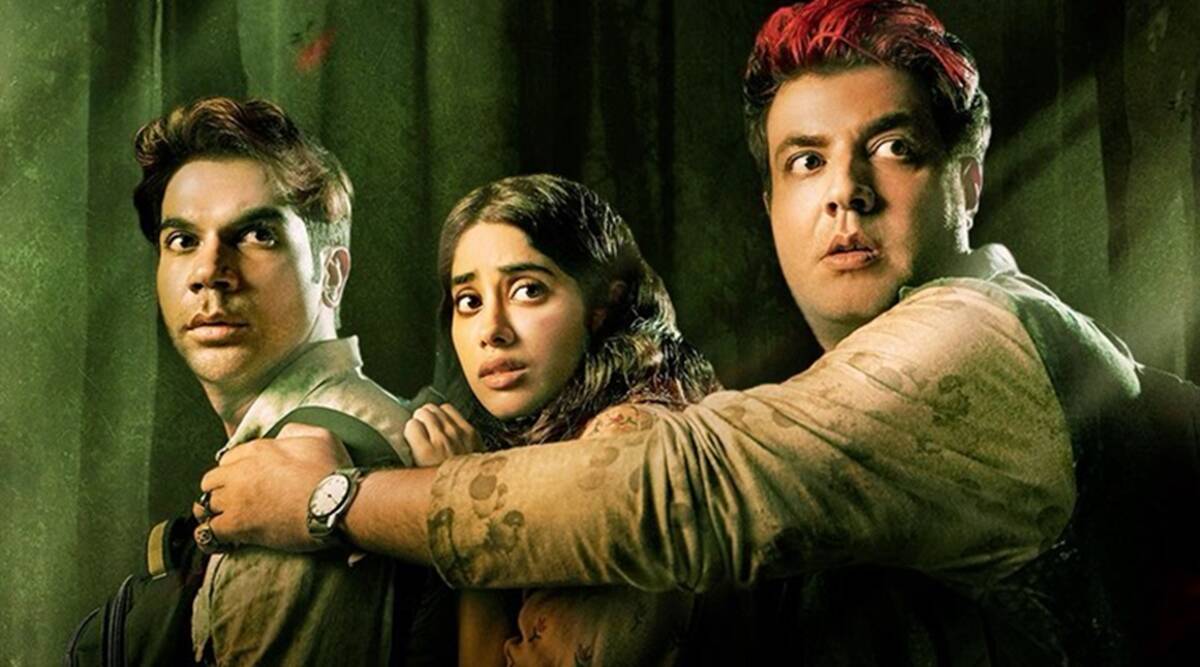 There's nothing funny about 'pakdaai shaadi', in which young women are kidnapped and forced into unwanted marriages. Every time a film decides to bring it up, it makes you cringe. However, a valid criticism can be made that why would a film in this day and age want to give space to this 'tradition' that should have been deep-sixed long back.
'Roohi' spends too much of its opening in setting up one such 'kidnap', for the benefit of a naive, open-mouthed white male 'gora' (Alexx O'Neill), which brings together a couple of small-town locals, Bhawra (Rajkummar Rao) and Kattani (Varun Sharma), and a shy young woman Roohi (Janhvi Kapoor), and deposits them in the middle of a jungle, for no good reason. A muscle-bound hood (Manav Vij) shows up once in a while, however, it's not clear what was his purpose.
Also Read- Mera Fauji Calling Box Office Prediction: The movie may receive a lukewarm response
It is shown that there's something up with Roohi. The two fellows soon discover that she is a shape-shifter, switching from a whisper to a roar whenever she feels like it. There was potential to this idea: a woman is never just one thing or another. She has as much right to be many entities, as anyone else. But the writing destroys it with great determination and tasteless jokes.
Watch Trailer-
As for the Roohi movie review, What's missing is a consistent plot and writing. All we get is one cringe-inducing sequence after the next ('jhaad-phoonk', exorcism, women in chains), where we are treated to problematic lines: when, when will mainstream movies stop terming wives 'chudails'?
No, it never was funny; the usage now just arouses fury. Just tossing in one line as a disclaimer that the film doesn't encourage superstition, is not a buy-out. Neither is the reliable Rajkumr Rao's presence, usually a guarantee of quality and class. Sharma's brand of dialogue delivery already feels boring as hell. Jahnvi Kapoor tries gamely but never gets a break-out right till the end.
The climax is a mess-up itself. Finally, you get why the film was made, and you ask yourself- is this the movie I came to watch?
In the conclusion of Roohi Movie review, we would like of say that movie is complete let down in comparison with similar genre movie 'Stree' and only hardcore Rajkumar Rao fans might wanna watch it.