Actress Kangana Ranaut is constantly in the headlines these days. But this time she is not in the discussion because of any rhetoric but is in the news about her passport renewal. Actually, Kangana was to go to Budapest, Hungary from June 15 to August 20, 2021, for the shooting of her film 'Dhaakad'.
When Kangana reached the passport office, there was a demand for a court direction to renew the actress's passport. After this, Kangana approached the Bombay High Court. The actress also did not get any relief in this matter from the High Court.
Refusing to hear the matter immediately, the High Court has adjourned the hearing till June 25. Now Kangana expressed her anger while writing on the Ku app. Then share this post on her Instagram story as well. The special thing is that Kangana even dragged superstar Aamir Khan in her case.
Should Read- Jubin Nautiyal's 'Bedardi Se Pyaar Ka' Song Featuring Gurmeet Choudhary, Sherine Singh & Kashish Vohra Trending At No.1
Kangana wrote, 'The disastrous government has started harassing me again. My passport renewal appeal has been rejected. Because a Tapori-roadside Romeo has filed a case of sedition against me.
The Bombay High Court, while hearing the petition of Kangana Ranaut, said that the actress has filed a wrong petition. The High Court said that when the passport is expiring then why has the petition been filed at the last moment? Let us tell you, the Regional Passport Office had refused to renew Kangana's passport, objecting to it.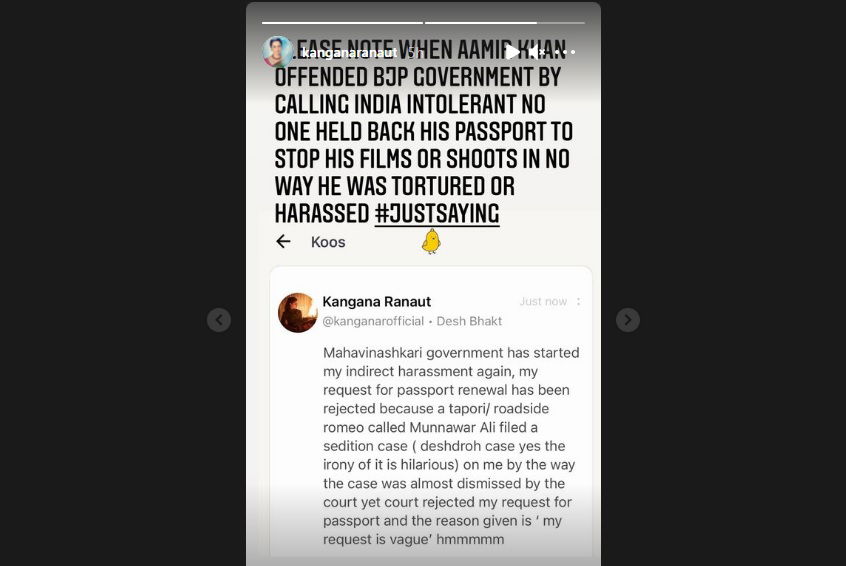 Also Read- Grahan On Disney+ Hotstar: Recall The Horrors Of 1984 When A Big Tree Fell And The Earth Was Shaken
Kangana's lawyer Rizwan Siddiqui presented the actress's side in the court. He said that while filling the form for renewal, the passport office has said that it cannot be done. But there is nothing in writing about it, it has all been done orally.
The Passport Authority has said that if NOC is received from the High Court, then they will renew it. Please inform that Kangana is facing a case of spreading hatred in communities, spreading communalism, posting objectionable tweets, and sedition.
Talking about Kangana Ranaut's films, many films are included in the account of the actress. her film Thalaivi is ready for release. The film was scheduled to release in April itself. But the film could not be released due to the Corona epidemic. Apart from this, Kangana's films Dhakad and Tejas are also going to come.