New Delhi Bollywood actress Kangana Ranaut is known for speaking out impassively on social-politics issues. Recently, his Twitter account was permanently suspended due to political issues. Despite this, Kangana Ranaut is still not hesitating to give her opinion on any issue. She is still speaking openly on social media on social-politics issues.
After the Twitter account was suspended, now Kangana Ranaut is using Instagram to give her opinion. He has once again given his response to West Bengal Chief Minister Mamata Banerjee. Kangana Ranaut has shared a news story on her official Instagram account. This news is of the swearing-in ceremony of the new Trinamool Congress (TMC) cabinet on Monday.
Should Read- Salman Khan apologized and said could not complete the 'Commitment' for Radhe
A picture is also seen in this news, in which a TMC leader is seen taking blessings by touching the feet of Chief Minister Mamata Banerjee. Sharing this news, Kangana Ranaut has given her response. She wrote in her post, 'meanwhile demonic Taadka, charan Vandana of power.' Kangana Ranaut's post on social media is becoming increasingly vital.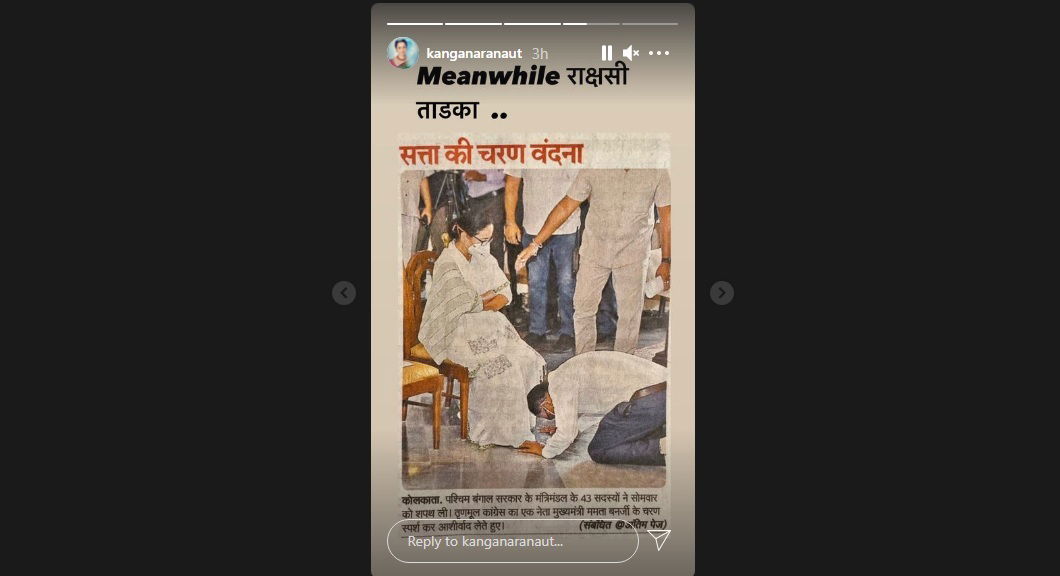 Let me tell you that in the past, Kangana Ranaut's Twitter account has been suspended forever. There were reports of violence in the state after the counting of assembly elections held in West Bengal. Many BJP leaders had alleged that TMC workers are attacking BJP workers. Reacting to the same news, Kangana tweeted an objectionable tweet, after which her verified Twitter account was permanently suspended.
Also Read- 'Indian Variant Most Dangerous Till Date', Warns WHO
If you search Kangana's Twitter account, then 'Account Suspended' is written in clear words on it. On the other hand, the Twitter spokesperson issued a statement reacting to the suspension of Kangana Ranaut's Twitter account. The spokesperson said in his statement, "We want to clarify that we will take strong action on behavior that has the potential to cause offline harm."
'Repeated violations of Twitter rules, especially under our hate conduct policy and abusive behavior policy, have been permanently suspended. We impose Twitter rules on our service impartially to everyone. '