Bollywood actors Rajkummar Rao and Patralekha have held each other's hands forever with Saat Phere. Both of them got married yesterday in Chandigarh among their relatives and special friends. Both have shared wedding pictures from their social media platforms as soon as the wedding is over. In which both have written a special message for each other. Both were seen expressing the happiness of having each other and have named their 11-year relationship as marriage. At the same time, with the wedding picture of Rajkumar Rao and Patralekha going viral, all the celebs of Bollywood are seen congratulating them.
Also Read- Inside Edge Season 3 Release Date: Richa Chadda, Vivek Oberoi Fronted Sports-Crime Thriller To Return On This Date
Celebrities React To Rajkummar Rao's Wedding:
Priyanka Chopra
Hollywood Actress Priyanka Chopra congratulated both of them on their marriage & she wrote "So excited for you both, my friends! This was always going to happen! So Happy!"
Ayushmann Khurana
Ayushmann Khurana recently congratulated both on his Instagram story & he wrote, "Heatiest congratulations to Rajkummar Rao & Patralekhaa"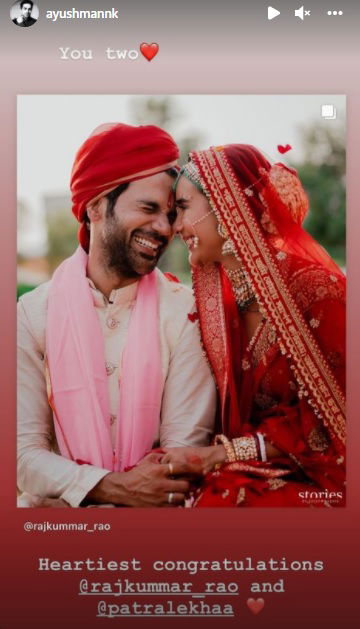 Sharing the wedding picture on his Instagram, Rajkumar wrote, 'Finally after 11 years of friendship, love, romance and fun, I am married with everything I have. My soulmate, my best friend, my family. There is no greater joy for me today than to be called your husband. At the same time, Patralekha also shared the photo on Instagram and wrote, 'Everything today... my lover, my partner in crime, my family, my soul ... my best friend from last 11 years! There is no greater happiness than being your wife. Fans of both are seen congratulating Bollywood celebs on their Instagram.
Dia Mirza
Dia Mirza also left a heartwarming note for both & she wrote, " Love you both beautiful people, Patralekha & Rajkummar Rao"
Malaika Arora
Malaika Arora also congratulated both & she wrote, " Love N Happiness N Togetherness Always"
Also Read- 10 Best ZEE5 Web Series: Here Is The List Of Top Web Series On ZEE5 Streaming Service - See Latest