Ayushmann Khurrana is knowingly the flag-bearer of unconventional concepts, as well as he tried everything from erectile dysfunction to same-sex love but this movie is the most unconventional choice ever. Here. An Action Hero movie review is discussed:
An Action Hero Movie Review: Plot
Ayushmann Khurrana played Maanav who is a Bollywood megastar action hero also a popular youth icon that falls from grace when he got caught up in a dramatic real-life incident that forces him to run for life.
An Action Hero Movie Review: Script Analysis
The movie is a directorial debut by Anirudh Iyer delivers the celebrity culture and the fickle side of fame as well. With his direction, he showed that most famous celebrities are vulnerable to public backlash a media trials.
'An Action Hero' is a simple revenge story where the screenplay transforms to the sharp twisted narrative of a superstar who finds himself in an unfortunate situation.
Read This:An Action Hero: Ayushmann Khurrana's Journey Of A Genre Breaker Movie & Everything We Know So Far
The plot seems juicy and co-writer Neeraj Yadav maintained a steady grip on the narrative for most of the part.
The movie has intelligent sequences mostly where the pre-known action tropes and humor come from. The dialogue exchange between both lead Ayushmann Khurrana as Maanav and Jaideep Ahlawat as Bhoora is hilarious, mainly due to straight face treatment.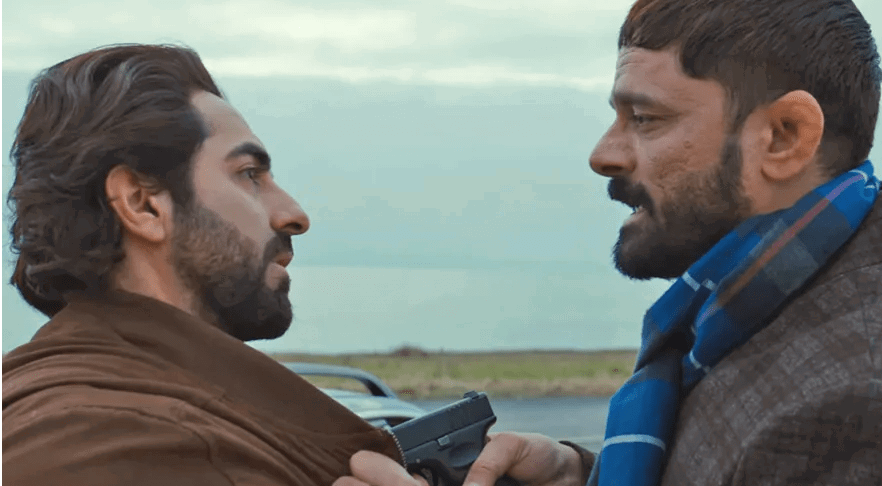 The representation of a politician gangster and an action hero indulging in unwanted real life is done extremely sleek, in a stylish way, mostly during the second half of the film.
Talking about the action performed is not a satisfactory part of the film. Ayushmann looks charming on the screens when it comes to acting prowess, but there are obvious rough s[pot of him almost seeming too stiff.
Whereas Ahlawat tries his absolute best level of acts, whatever he is being given he delivered.
An Action Hero Movie Review: Final Verdict
An Action Hero picks up exponentially in the second half which leads to the film becoming a fun watch. The first half and its jumbled treatment do hinder but the film is an impressive debut for director Anirudh Iyer.
The bad part is It falls into its trap at places hampering the pace & its unpredictable nature. It could be rated 3.5 out of 5, though this is a masala entertainer, & Ayushmann Khurrana steers in the right direction.