Bollywood actress 'Panga Girl' ie Kangana Ranaut not only does films but is also very active on social media. She often gives her views on some socio-political and film issue, which starts being discussed, and sometimes her views turn into a controversy.
Recently, Kangana Ranaut has spoken of changing the name of the country. Kangana has expressed her desire that the name of India should be changed to Bharat. The name India was kept by the British and it is a symbol of slavery.
'Bharat' not 'India' should be the name of the country: Kangana Ranaut
Kangana Ranaut has posted two stories on Instagram in which she has explained the difference between India and 'Bharat'. Describing the definition of Bharat, Kangana wrote that, 'It is a Sanskrit word. Bha means Bhava, Ra means Raga and Ta means Taal. Along with this, she also gave her views about India. She wrote, 'India can move forward only if it believes in its ancient civilization and culture and moves forward on its path. Along with this, Kangana appealed to everyone to join Geeta, Vedas, and Yoga.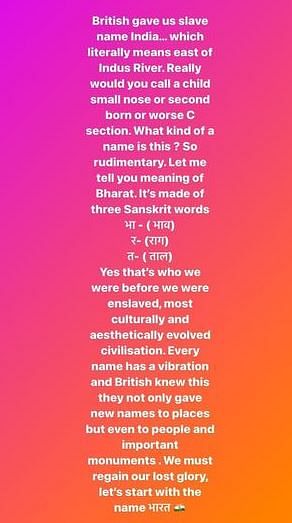 Kangana Ranaut says, 'British people named India when we were their slaves. This name also symbolizes the same slavery. Every name has a meaning and the British knew this, so they not only gave names of places but also named people and historical buildings. In such a situation, this name should be changed and it should only remain 'Bharat'. Now is the time to get that respect back. When we connect with our civilization and culture, then only India will develop.
Should Read- Casting Couch: Actress Minissha Lamba Recalls Her Experience With Bollywood's Dark Side
Also Read- Grahan Web Series Faces Ban Threat For Allegedly Twisting Facts Related To 1984